G-7 calls for 'humanitarian pauses' to allow aid into Gaza
TOKYO — Foreign ministers from the Group of 7 developed economies called for "humanitarian pauses" to allow aid into the Gaza Strip but not a full -cease-fire, in a joint statement at a meeting in Tokyo today.
"We support humanitarian pauses and corridors to facilitate urgently needed assistance, civilian movement, and the release of hostages," said the statement from the group, which includes the U.S. 
The G-7 condemned the Oct. 7 terrorist attacks by Hamas and the continuing rocket attacks against Israel: "We emphasize Israel's right to defend itself and its people, in accordance with international law, as it seeks to prevent a recurrence." It also said the rise in violence by Israeli settlers against Palestinians in the West Bank was "unacceptable" and undermined security.
"Israelis and Palestinians have an equal right to live in safety, dignity, and peace," the statement said. "We reject antisemitism and Islamophobia in any form in our own societies and anywhere in the world."
The statement added that a two-state solution "remains the only path to a just, lasting, and secure peace."
Saudi Arabia says it will host Arab, African and Islamic summits
SINGAPORE — Saudi Arabia will host summits of Arab, Islamic and African nations in coming days to discuss the Israel-Hamas war, the kingdom's investment minister said today.
"We will see, this week, in the next few days Saudi Arabia convening an emergency Arab summit in Riyadh," Saudi investment minister Khalid Al-Falih said at the Bloomberg New Economy Forum in Singapore.
"You will see Saudi Arabia convening an Africa-Saudi summit in Riyadh, and in a few days you will see Saudi Arabia convening an Islamic summit," he said.
"In the short term, the objective of bringing these three summits and other gatherings under the leadership of Saudi Arabia would be to drive towards peaceful resolution of the conflict."
Infrared satellite images reveal intense shelling in Gaza City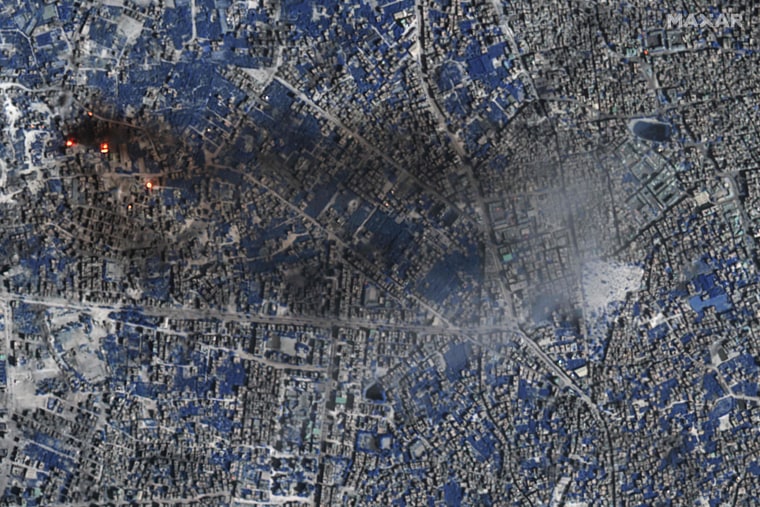 Images released by Maxar Technologies yesterday show a number of fires burning across the city, as plumes of smoke trail from burning buildings as heavy shelling continues from Israel. Vegetation appears in shades of blue while active fires/thermal hot spots show up as an orange/yellow bloom.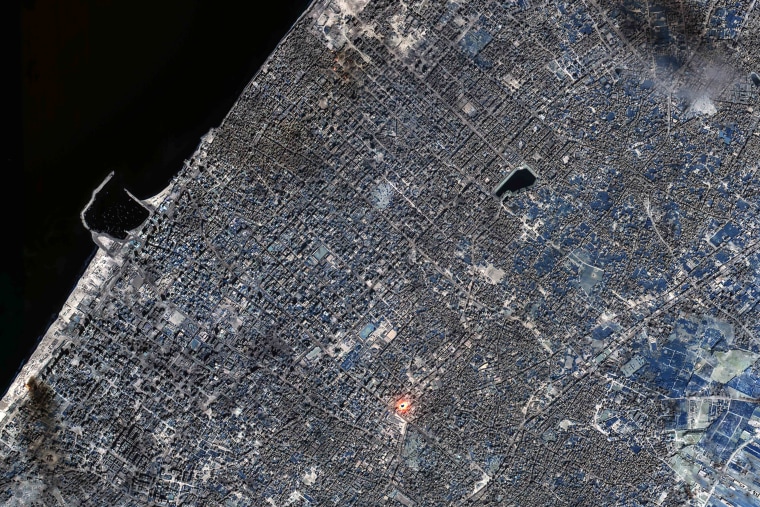 How the Israel-Hamas war could impact Michigan voters for the 2024 presidential election
The war between Israel and Hamas could shake up the 2024 U.S. presidential race in Michigan, a key battleground state that President Joe Biden reclaimed for the Democrats in 2020.
Detroit area has the largest concentration of Arab Americans in the country, but many now say they're turning against Biden. Arab American voters there say they feel betrayed by the president's refusal to call for a cease-fire in the Israel-Hamas war, which health officials in Gaza say has claimed the lives of more than 10,000 people since the start of the conflict a month ago.


Source Link