On the biggest stage, a
World Cup
semifinal, with 'God' Tendulkar himself in attendance along with 'King' Richards,
Virat Kohli
becomes the first to score 50 ODI centuries
MUMBAI: Could one have scripted it any better? The 'God' of Indian cricket, Sachin Tendulkar, was in attendance. The 'King' of ODI batting, Sir Vivian Richards, was watching too. These are two greats who had passed the baton of aggressive ODI batsmanship from one to the other.Two greats Virat Kohli adored and idolized as a young cricketer growing up. If one needed more bling, 'Goldenballs'David Beckham chose to add to a dash of sporting royalty!
And then there was the cricket-mad and landmark-obsessed 33,000 Mumbai crowd, dressed in blue at the Wankhede.
World Cup 2023 semifinal breaking: Virat Kohli scores 50th ODI ton, breaks Sachin Tendulkar's record
Kohli could not have chosen a better moment to embrace cricketing immortality and surpass Tendulkar's tally of 49 ODI hundreds than the World Cup semifinal against New Zealand on Wednesday.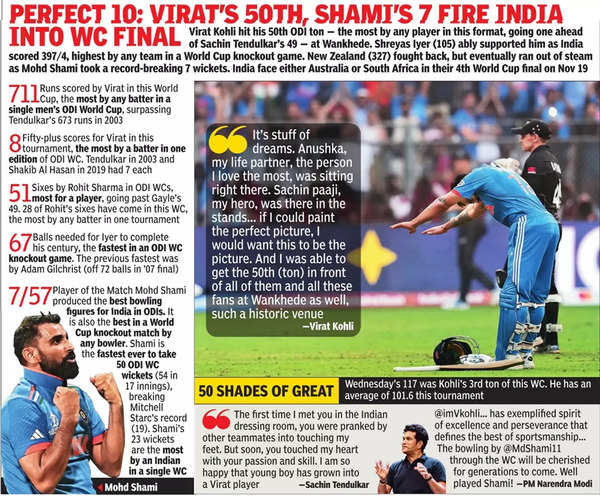 It's a stage that Kohli had historically faltered on – with scores of 9, 1 and 1 in the three last-four outings he had featured in, back in 2011, 2015 and 2019.
There was little chance of that happening on Wednesday once India won the toss and skipper Rohit Sharma chose to bat.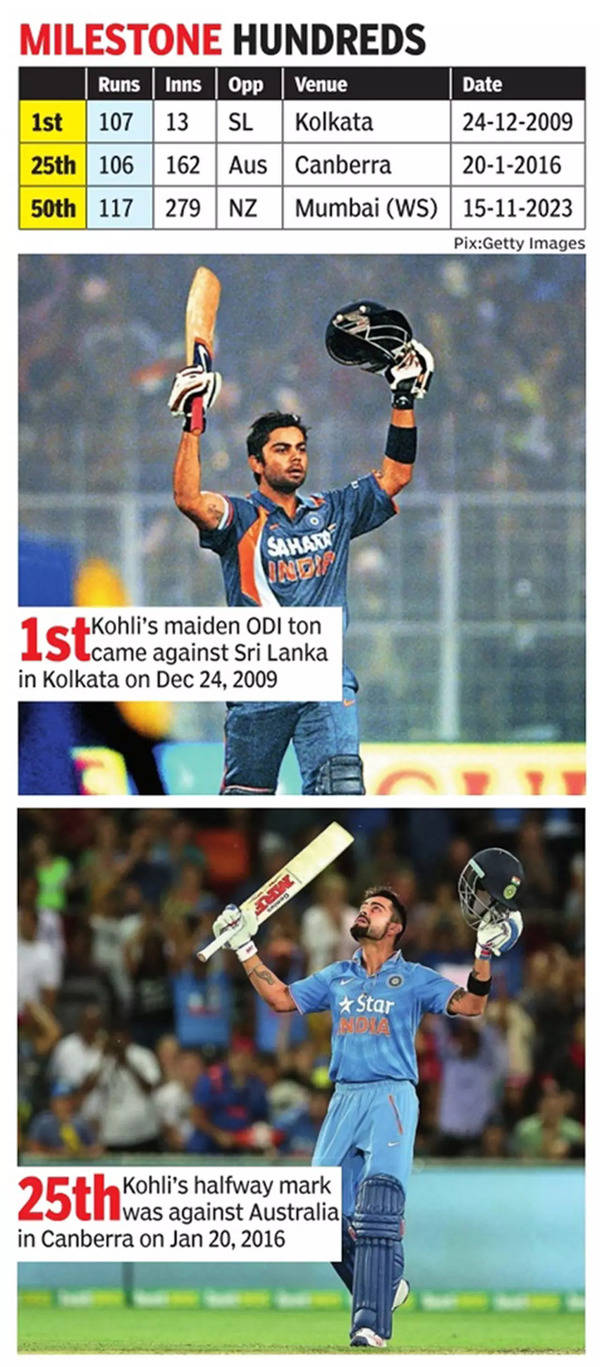 Sublime strokeplay. Iron wrists to flick slower ones on length for six. Dabs to third man, bisecting point and short third, precise footwork and working of the angles, punishing fitness standards, and an eerie sense of occasion. Kohli had it all, putting on a clinic in exhibiting those virtues in crippling heat and humidity, which took a toll on his younger teammate Shubman Gill.
That he could tame the conditions and his two long-time adversaries, Trent Boult and Tim Southee, and a team that has given him heartbreaks in major championships, would have pleased him. In the 159 minutes that he was at the crease on Wednesday, it seemed like Kohli passed several yoyo tests, a fitness measure he had introduced during his time as skipper and passed with ridiculous scores.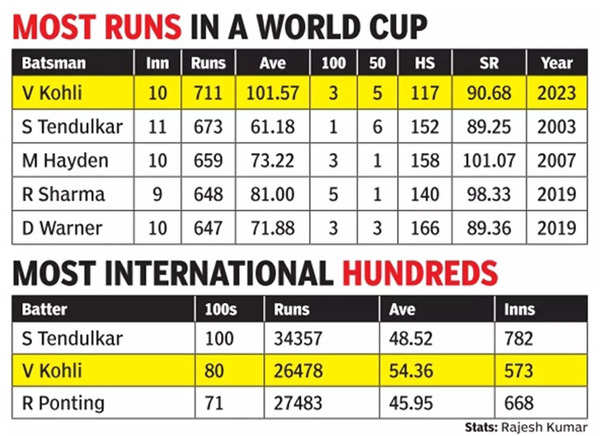 That the overtaking of his idol's record came on the very ground where he had carried his hero on his shoulders on April 2, 2011, after India beat Sri Lanka in the 2011 World Cup final and said those famous words, "He's carried the burden of our nation for 21 years. It was time we carried him," would add to his delight.
Kohli has made a name for himself for chasing down scores with robotic precision, but in this World Cup, he has looked at home whenever India has batted first and looked to set a target. Playing risk-free cricket and batting deep has been his mantra.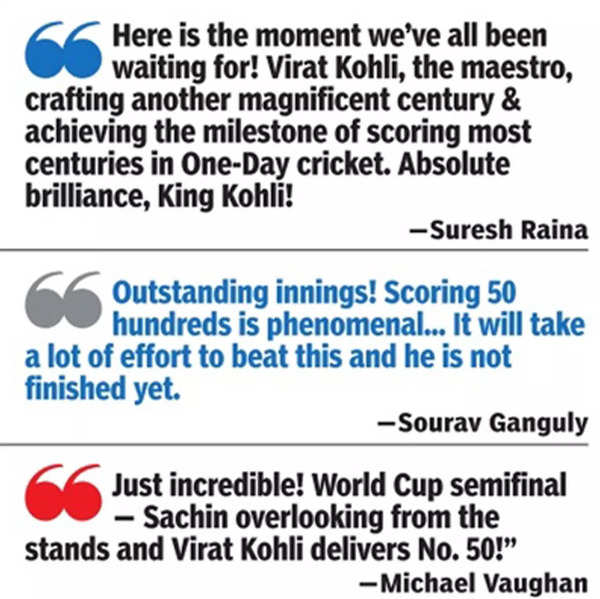 The 35-year-old has batted 10 times in this World Cup and has made eight fifty plus scores with three tons.
The 49 ODI hundreds wasn't the only landmark he surpassed on Wednesday. He also broke Tendulkar's tally of 673 runs for the most number of runs scored in a single edition of a World Cup, which the maestro had logged in the 2003 edition in South Africa, Kenya, and Zimbabwe. With 711 now, he stands alone. Proudly.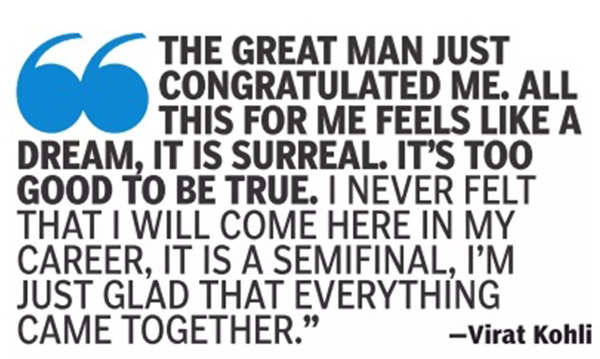 Tendulkar, watching the feat from the president's box, was up on his feet to applaud when Kohli, on 98, shovelled Lockie Ferguson to long leg and ran for the second like Usain Bolt.
He leapt in the air first, then sank to his feet. Then, he rose to bow to the Master, like he did in the 2016 T20 World Cup in Kolkata after scoring a 50 against Pakistan. He then let the moment sink in and acknowledged the crowd, who were all standing and chanting "Kohli, Kohli".

Wife Anushka Sharma blew him a kiss. Kiwi skipper Kane Williamson gave him a hug. Tendulkar congratulated him on X: "The first time I met you in the Indian dressing room, you were pranked by other teammates into touching my feet. I couldn't stop laughing that day. But soon, you touched my heart with your passion and skill. I am so happy that that young boy has grown into a 'Virat' player. I couldn't be happier that an Indian broke my record."
Kohli, who was dismissed for 117, the highest score by an Indian in a knockout match, by Southee, acknowledged his idol. "Again, the great man just congratulated me. It feels like a dream. Too good to be true. I played the role so that the guys around me can come and express themselves. I've been given a role this tournament and I'm trying to dig deep. That's the key to consistency – play according to the situation and play for the team. It's the stuff of dreams."
The nation dreams too. For No 51. In Ahmedabad. On Sunday.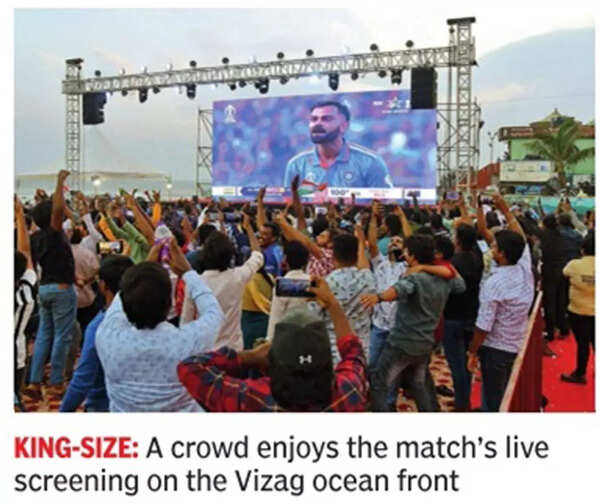 Source Link