Making pre-tournament predictions is akin to opening yourself up to mockery and humiliation.
Fortunately, data provider Opta and their AI have come to the rescue, simulating this year's Rugby World Cup 10 million times to see what the most likely outcome is.
The calculations are determined using recent form, historical success, their respective pools and the fixture difficulty with them, as well as whole host of other data.
And although there is no accounting for injuries, suspensions and loss of form within the tournament, it still gives us a pretty decent idea about who the favourites are heading into the tournament.
The results show there are four teams well ahead of the pack.
Ireland, hosts France, defending champions South Africa and three-time winners New Zealand are considered overwhelming favourites to win the Webb Ellis Cup in Paris on Sunday, October 29 — streets ahead of the chasing pack, led by Argentina.
Only one team from the northern hemisphere (England in 2003) has ever won the Rugby World Cup, but Opta has Ireland and France as slight favourites to join Martin Johnson's legendary side.
Ireland have, arguably, their best-ever side, winning their fourth-ever grand slam during this year's Six Nations.
Incredibly, Ireland have never progressed past the quarterfinals at a Rugby World Cup, having never won a single knockout match.
Yet this Ireland team are made of different stuff, having beaten New Zealand 2-1 in their series last year as well as dominating most of their northern hemisphere opponents for the past two years.
However, Ireland are very much going to have to do it the hard way.
Their Pool B features not only a desperately underrated (and unfortunate) Scotland team but the defending champion Springboks, who despite finishing second in the truncated Rugby Championship to the All Blacks, are a hugely daunting proposition, not least given the 35-7 thrashing they inflicted on New Zealand at Twickenham in the lead-up to this tournament.
South Africa are ruthlessly efficient, but are considered by Opta to have 45.72 per cent chance of winning the pool compared to Ireland's 47.97 per cent chance.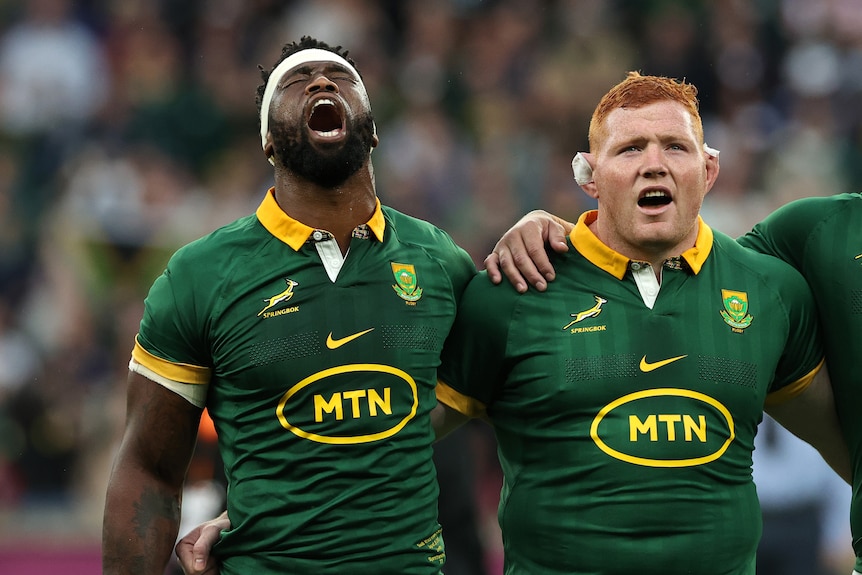 Scotland, who are given a 27.18 per cent chance of finishing somewhere in the top two, will likely have a strong say, but all eyes will be on the Stade de France on September 24 for a probable pool decider.
If Ireland are to win their pool, beating South Africa and Scotland plus the dangerously physical Tonga and Romania on the way, they would then face the runner-up of Pool A in the quarterfinals.
Who is in Pool A? Well, hosts France — who claimed the Six Nations Grand Slam in 2022, beating Ireland in Paris on their way to that title — and the ever-threatening All Blacks.
Opta suggests that France will top Pool A, so New Zealand will likely stand between Ireland and the semifinal — plus a drought-breaking knockout win. 
France and New Zealand both have more than a 97 per cent chance of making the quarterfinals from Pool A, according to Opta predictions, making it the safest of all the pools to predict who will qualify from it.  
The first match of the tournament is between France and New Zealand at the Stade de France, which could be a super-early contender for game of the tournament.
Of course, with the top two from these two pools then meeting at the quarterfinal stage, two of the four favourites will be out of contention before the semifinals.
So where do the Wallabies fit in?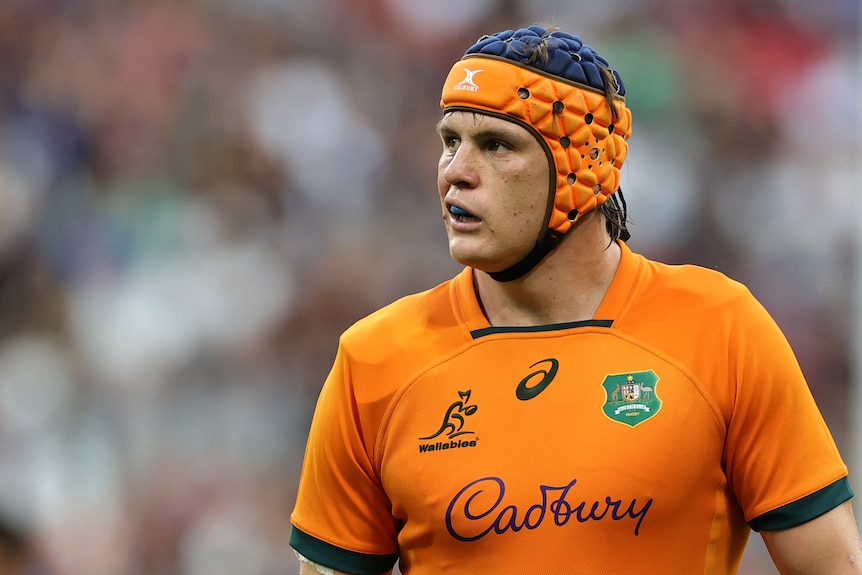 The Wallabies are rank outsiders to win the Rugby World Cup.
According to Eddie Jones though, that's not true and the Wallabies will surprise everyone.
"We're going off to a World Cup you think we can't win … Tell us we're terrible and we will prove you wrong," Jones railed at the team's departure for France last month.
Opta stats agree with Jones, to a point.
The Wallabies are in a tricky Pool C with Wales, Fiji, Georgia and Portugal, yet are considered the firmest favourites in the tournament to top their pool at 51.77 per cent.
Pool C is the tightest though in terms of there not being just two clear favourites, with Fiji (58.28 per cent) and Wales (49.92 per cent) also tipped to have a chance of progressing to the quarterfinals.
Should the Wallabies win their pool or even come second, the quarterfinal is very winnable.
Opta's simulations suggest that the most likely quarterfinal is a mouth-watering clash against England — the team who Jones led up until late last year when he was surprisingly dumped — in Marseilles.
The simulations say England has a higher chance of winning that game, but the 2003 champions are, quite frankly, in a complete mess at the moment, having lost to Fiji for the first time and getting beaten by Wales and Ireland in the lead-up to this tournament.
If not England, the most likely opponent will be Argentina, who the Wallabies narrowly lost to in the Rugby Championship in July. 
So could the Wallabies make the semifinals? Would that be considered a success? Opta says there is a 39.74 per cent chance they do make it to the final four, but has nothing to say on what the reaction will be.
Overall though, the Wallabies are given just a 3.01 per cent chance of winning the tournament and a 9.71 per cent chance of reaching the final.
Still … 
Who would be the most unlikely of winners?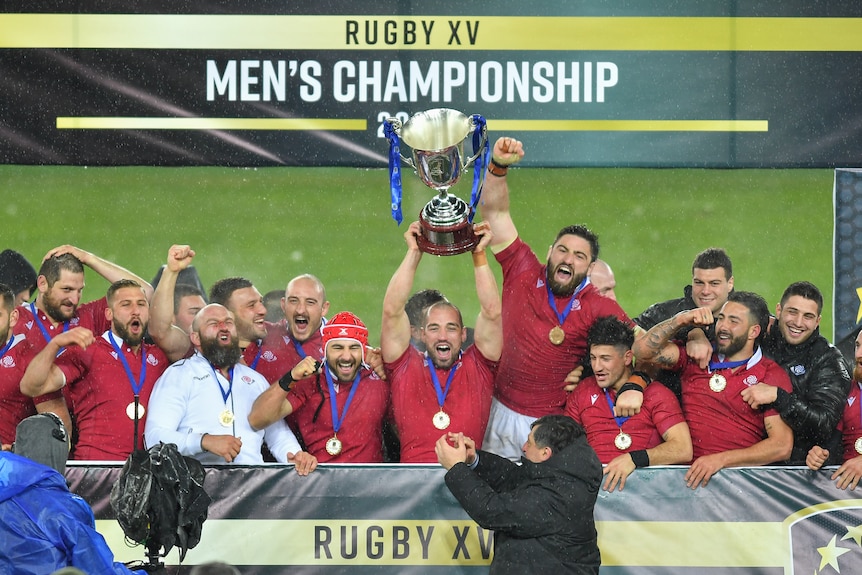 Despite there being four clear favourites and then a chasing pack of six would-be finalists, when you have a million simulations, there will always be a surprise winner on a couple of occasions.
Only three teams are given are 0 per cent chance of making it out of the group: Chile, Namibia and Romania.
Of the rest, Uruguay are given no chance of making it through to the semifinals, while Portugal are not given any chance of making it past the semifinals.
Amazingly though, there are scenarios thrown up by the Opta supercomputer where Italy or Tonga can make the final and where Georgia, Samoa or Japan can win the whole thing.
It is, admittedly, incredibly unlikely.
The Lelos, who play the Wallabies first up on Sunday morning at 2am AEST, are fourth favourites to progress from Pool C as winners (2.76 per cent) or runners-up (10.14 per cent).
They would then have to play Argentina or England, which they would have a 2.48 per cent chance of winning, then knock out one of the favourite four (0.16 per cent).
Georgia is given just 0.02 per cent chance of winning the final — but that means in just 20 of the 10 million simulations, Merab Sharikadze lifts the Webb Ellis Trophy.
Now wouldn't that be a story?
Loading