Stand and deliver.
It has been the mantra of Glenn Maxwell for much of his highlight-laden career.
But on Tuesday night at Mumbai's Wankhede Stadium, the all-rounder etched his name into the annals of Australian cricket folklore as he led his team to a famous three-wicket victory over Afghanistan and into a World Cup semifinal against South Africa.
Hobbled and hampered with a bad back and crippling cramps, Maxwell somehow stayed on the field to steer his team to victory and smashed records, sixes and Afghan hearts in the process.
His ODI high score of 201 not out off 128 deliveries is an Australian record and was something to behold.
It had a little bit of everything and not just the 21 fours and 10 sixes he hit.
"I feel shocking and I haven't done a lot of high intensity exercise in the heat," said Maxwell after hitting the winning runs with a six.
Asked if the innings was his best, Maxwell said he felt it could have been better.
"It would have been nicer if it was chanceless," he said.
"I led a charmed life out there, I was very lucky and made the most of it.
"To go on with it tonight and be not out with Patty (Pat Cummins) at the end is something I am very proud of."
Australia captain Pat Cummins was in awe of Maxwell's performance.
"I think that's the greatest ODI innings," Cummins said.
"It's the best I've ever seen, probably the greatest ODI innings ever.
"We're just chatting about it, all the players, and we've decided it's one of those days where you just go, 'I was there in the stadium the day Glenn Maxwell chased down that total by himself'.
"It's just a one-man show. I'm up the other end and don't see any gaps in the field, don't see where I'm going to score a boundary and yet it seems like every time he sees that, it still just runs away for four. It looks so easy.
"He still can't move, and yet still manages to hit a six over the third man with a reverse. He's a freak."
When Maxwell came to the crease the Australians were 4-49 and staring down the barrel of a shock loss to Afghanistan after Ibrahim Zadran had become its first player to score a century at an ODI World Cup.
Rashid Khan had also clobbered a quick 35 not out to edge Afghanistan to a total of 5-291.
Australia's chase was immediately in dire straits. The top order of Travis Head, Mitch Marsh and David Warner were all gone cheaply as Afghanistan dared to dream of a huge upset and a spot in the semifinals.
But Maxwell walked in to join Marnus Labuschagne and looked to get his eye in.
He did just that, but his batting partners crumbled around him as Labuschagne, Marcus Stoinis and Mitchell Starc all went cheaply to leave Australia reeling at 7-91.
But from there he and a stoic Cummins steered Australia to the most unlikely of victories.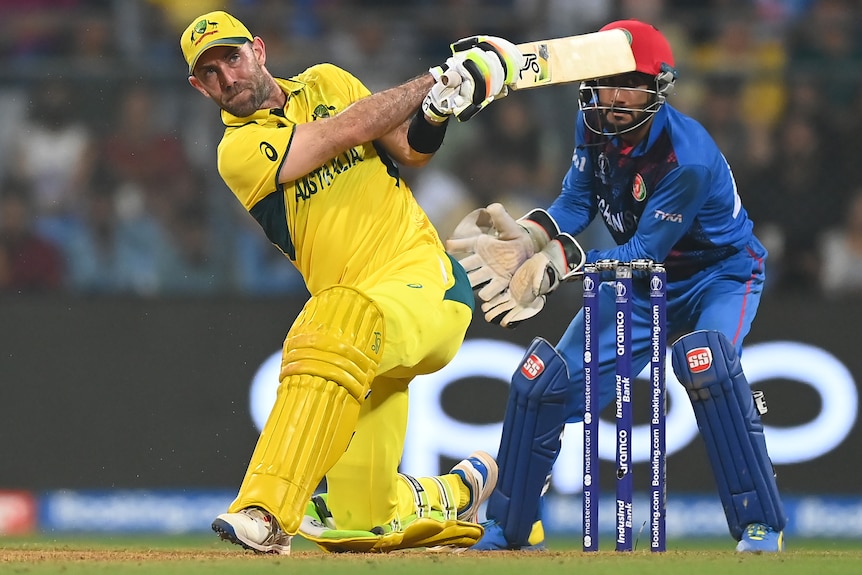 It was not all smooth sailing. Maxwell himself was dropped and made the most of the opportunity as Cummins played the anchor.
Afghan captain Hashmat Shahidi labelled the dropped catch the match's turning point.
"The dropped chances are what hurt us … Maxwell played all the shots," he lamented.
For Afghanistan it was hard to watch, but for a grimacing Maxwell it was bittersweet.
His greatest innings was set against the backdrop of a body in agony.
The first signs of trouble came when Maxwell made it to his century and Australian hopes raised before he received initial treatment on his back.
It would be a sign of things to come, as his body betrayed him as he neared his 150.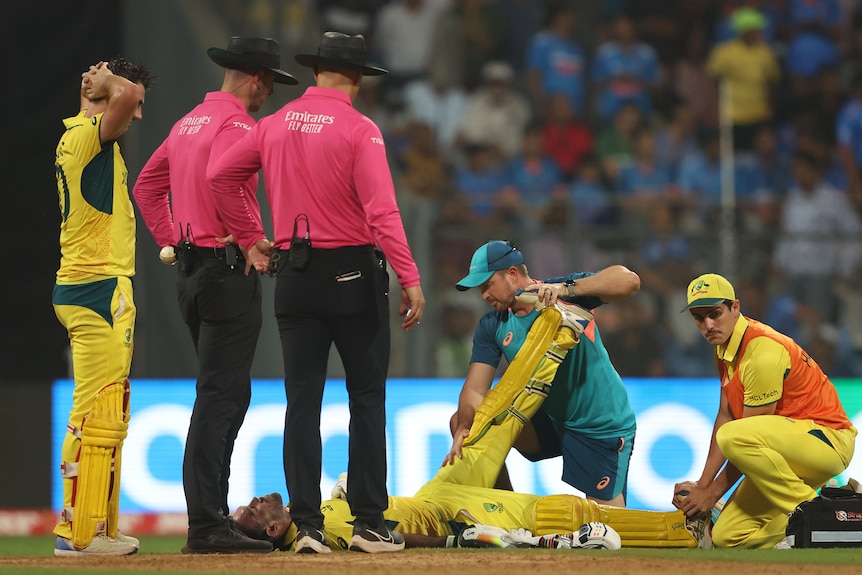 He crashed to the ground after a run as cramps left him stiff-legged and prone and the umpire checked on him before the team physio came out.
His pain was etched all over his face and so bad that leg spinner Adam Zampa walked down to the boundary ready to take over.
He was waved away though and Maxwell found another gear as he fought through the pain to stand without movement and swat ball after ball to the boundary – the fence was the only option.
"After [losing] the first two games, everyone was pretty quick to write us off," Maxwell said.
"To come back and win six straight now is a great effort from this group. The belief is always there and to win a game like tonight, hopefully that belief spreads to the change room."


Source Link