Key events
Back to the Elstree ballroom next time
Thanks for watching along with me, Tower Ballroom buddies. Our hoofing half-dozen now progress to the 10th live show, back in the familiar surroundings of Elstree Studios. The dancefloor might be smaller and not sprung but they'll be bidding to make it through to Musicals Week.
It airs next Saturday at the slightly later time of 7.30pm on BBC1 (due to the return of Doctor Who for its 60th anniversary specials). Meet you back here to see who's suffering a Blackpool hangover.
In the meantime, you know what comes next: keeeeep dancing! Night.
Viewers can now flip to ITV1 for The Masked Singer: I'm a Celebrity Special or to Channel 4 for the semi-final of Handmade: Britain's Best Woodworker.
At 9pm, I can recommend darkly comic new thriller Boat Story on BBC1. If you can bear to watch Nigel Farage's bid to fun-wash his reputation in the jungle, I'm A Celebrity, Get Me Out Of Here! returns to ITV1.
Film-wise: at 9pm, there's Taken on Film4 (if you have a very particular set of skills) or Pretty Woman on BBC3. Missing that would be a big mistake. Huge.
Some final thoughts from commenters on Angela Rippon. Sibling04 says: "Angela looking gorgeous! Go on and enjoy these moments you lovely and inspiring woman."
MissMartini says: "Angela did herself proud in that last performance. What a fabulous partner Kai has been to her."
YodaknowsAll says: "Angela Rippon should be so proud. A 79 year showing us that age is just number.
acanthe says: "Well, that was a final speech to treasure- very well said. I'm sure she's probably a bit relieved to be out now but what a graceful departure."
Rufusonly adds: "My goodness, the best exit speech I've watched on Strictly. Kai was genuinely touched. Angela leaves on a high because that final dance was her best, particularly her second attempt."
On musical guests Madness, Lidoswimmer says: "Disappointed. Was hoping Kai, Graz and Gorka were going to do the Nutty Boys dance."
BendyLizzy adds: "I'm not sure Suggs would be up for Strictly, Michael. He was on BBC Breakfast this week and the early start looked like it took it out of him!"
About Bobby Brazier's surprise appearance in the dance-off, mcculloch29 says: "Well, Nikita's WTF expression spoke for many of us. Bobby and Dianne. That was surely as a result of going first, and people forgetting what was essentially a good dance, but not high on wow factor."
Deedan says: "At the beginning of the competition- all those weeks ago – I thought Bobby was going to be brilliant. However, I am underwhelmed by most of his routines. It's like he holds back in the performance."
joanieloves adds: "The right result. He needed a t-shirt with CHOOSE BOBBY on for the dance-off."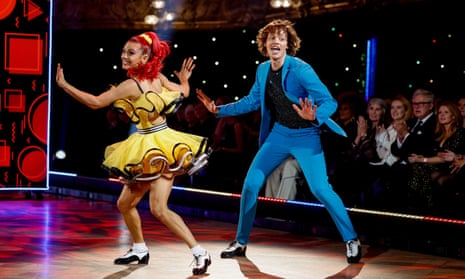 A vox pop of your Blackpool thoughts. MarkRoche says: "I loved last night's opening dance but feel they've missed a trick 'tonight' by not doing a proper ballroom number to pay homage to the hallowed Blackpool."
Once again, it's even stevens in the battle of the Strictly sexes. We're left with three female celebrities and three males. Which side will pull ahead next weekend?
Craig kept the show's integrity
Thank goodness for longest-serving judge Craig Revel Horwood. Many assumed he was saving his "10" paddle for Blackpool but still he kept it tucked away. With the pros chanting "40! 40!", perhaps a little unfairly, and the Tower Ballroom audience at fever pitch, it took strength not to succumb to away-day hysteria.
Instead Ballarat's finest continued to call each dance on his merits. When he spotted faults, he refused to give a perfect 10 just for the sake of it. The wait continues. When a maximum does finally arrive, it will mean all the more.
Kai secured his status as a premier pro
He's only been part of the Strictly troupe for three years but Kai Widdrington has already became a firm fan favourite. In his debut series, he reached the final with AJ Odudu before she heartbreakingly had to pull out with a late injury. He got a hospital pass last year, saddled with Loose Women's Kaye Adams as a partner and being first out.
However, Kai truly excelled this time. Aged 28, he's too young to remember her heyday but despite their 51-year age difference, he proved the perfect choice to partner Angela Rippon. They formed a tight partnership, with Kai cleverly working around her strengths and weaknesses. He choreographed classic routines, added crowd-pleasing tricks and leg lifts, and got her back to Blackpool like she'd dreamed. Endearingly, he was more emotional than Angela upon her exit tonight.
He's a gentlemanly home-grown pro in the tradition of Anton Du Beke, Ian Waite and Kevin "From Grimsby" Clifton. We'll even forgive him for the Michael Fabricant wig and Sound Of Music "curtainhosen" in Movie Week. It will be intriguing to see who Kai gets paired with next year.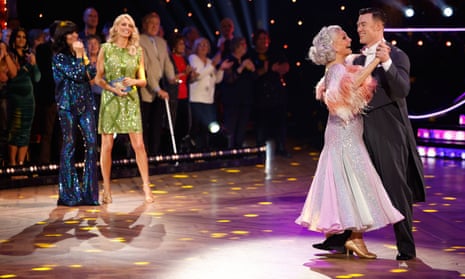 Right time for Angela Rippon to go
Let's face the music and dance. It was a much-hyped homecoming for 79-year-old Angela Rippon as she returned to the fabled venue from which she presented Strictly's mothership show, Come Dancing, during the 80s. Some viewers had grumbled in recent weeks that the BBC was so determined to engineer this neatly circular storyline, Angela was being over-marked and cut slack in the dance-off. Such conspiracy theories are fanciful. Yet it also felt fitting for her Strictly story to end here.
The show's oldest ever contestant arrived with a bang, exceeding all expectations by twice finishing third on the leaderboard and averaging over 30 points. Understandably, though, she ran out of steam mid-series, hence being in the bottom two for three weeks running. Her score dipped to 28 for last night's American not-very-smooth, her lowest for six weeks. Few survive a third dance-off and so it proved.
Still, the Devon dynamo got further in the contest than any 70something in Strictly history, banishing any misconceptions that dance is the preserve of the young. She was elegant, agile, graceful and musical. Her leg lift during week one's cha-cha will go down as one of the most memorable, meme-able moments of the series.
Whether it was doing the splits during her rumba, that punk-rock paso doble or her "swivel masterclass" during her Murder She Wrote-themed Charleston, she was a joyous performer, clearly having the time of her life. Even her training room catchphrase of "knickers!" was a retro delight. Angela was rippin' up the dancefloor but she leaves at the perfect point.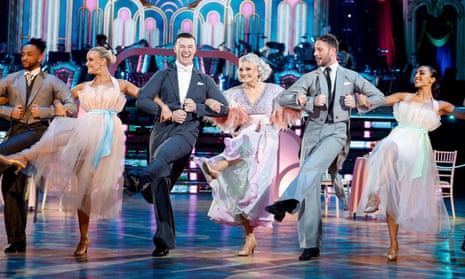 Sighs of relief for two boys
Both Bobby Brazier and Nigel Harman will be mopping their brows with a Blackpool beach towel tonight.
Bobby's jive failed to set the floor alight and he found himself in the dance-off for the first time. Barring a dis-ah-ster, darling, he was never seriously at risk of losing to Angela Rippon but it should serve as a wake-up call. Bobby needs to take it up a gear – and perhaps he isn't quite as popular with voting viewers as many assumed.
Meanwhile, Nigel has the public to thanks for lifting him clear of the bottom two. He was second from bottom on the scoreboard after his Hollywood-style quickstep was littered with hiccups. If he'd faced Angela in the dance-off, it might have been a closer call. Mini-Den can dance, no doubt, but he needs to focus and stop the frustrating mistakes before the judges and public lose patience.
Angela and Kai's last dance
As the departing pair take one last turn around the Tower Ballroom – a dancefloor full of memories or them both – to Can't Smile Without You by Barry Manilow (ledge), the credits roll and their castmates crowd in for backslaps and air-kisses. Please stay with us for analysis and reaction.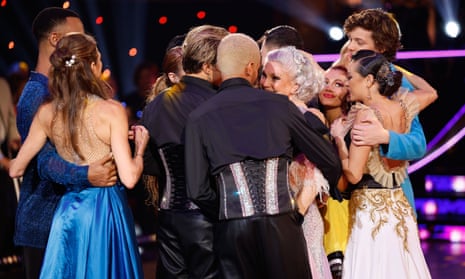 Angela's pro partner Kai Widdrington, who is sweetly emotional, returns the compliment: "As she said, I wasn't even born when she did Come Dancing. I had to ask my parents about it and the famous Morecambe & Wise moment. Like Angela just said, there's a 50-year age gap between us but we're like mates. Dancing with you has just been such a celebration of you and your life. I'm so proud of you and you should be proud of yourself. It's been my absolute honour and pleasure to dance with you, especially in this beautiful ballroom."
Well said. What a gent.
La Rippon's closing remarks
In her exit interview, Angela Rippon tells Tess: "The last nine weeks have probably been the most terrifying, the most fantastic, the most glorious and the most joyful that I have spent for a very long time in my profession. I've had the time of my life. I presented Come Dancing but that was 40 years ago. A different time. Kai wasn't even born then! Being on this side of the competition has been an eye-opener for me. There is a real team spirit in this programme, unlike anything I've done. They support us, they encourage us all the time, they're absolutely wonderful."
She then pays fond tribute to her tearful dance partner Kai Widdrington. "But the person who has to get the most credit is this gentleman here. He's an old soul on young shoulders. He's 28 and I'm 79, there's a 51-year difference in our ages. He has looked after me so brilliantly. He's a wonderful dancer, a great choreographer, a terrific teacher and he has the patience of a saint. You've got me here, so don't you dare cry! He and his partner Nadiya [Bychkova, fellow Strictly pro] are, in every sense of the word, beautiful people. I'm so pleased to have you in my life."
A long but lovely speech. Bravo.