There's an affinity between trains and Christmas, but what precisely is the connection? Ghostliness comes into it – the mystique of a train in the wintry night. I think of the misty, hypnotic adaptation of Dickens's story The Signalman, in 1976, part of the BBC's A Ghost Story for Christmas strand; or the ghost story in the Christmas number of the Railway magazine (that publication's only excursion into whimsicality is always worth reading).
Prof Paul Salveson, founder of the Community Rail movement, has written some excellent railway ghost stories, but he thinks the more profound connection is that "trains bring us home to our loved ones, and they have a sense of warmth and comfort that cars don't have". He recalls, from the 1960s, "lots of "Christmas extras" taking hundreds of people home, to and from Leeds, Manchester and Liverpool, often through snow-swept Pennine landscapes. Salveson finds an echo of that Christmas warmth in some stations today: for example, Paddington, with its Friday night brass band.
The trains themselves are not so warm as when they were literal fire carriers, and when trains feature on Christmas cards – which they often do – they are always steam-hauled. But in recent years, our many steam-oriented heritage railways have embraced Christmas with Dickensian relish, partly because those other child-friendly earners, Thomas the Tank Engine days, have become increasingly expensive to license.
There's no copyright on Father Christmas (at the time of writing) and most heritage lines offer a Santa Special, while others have gone for licensed events not yet as familiar as Thomas Days, and which do vary from line to line. Professional performers are usually involved in the shows, most of which start later this month.
Here are six of the best lines for families.
Bodmin & Wenford Railway, Santa by Steam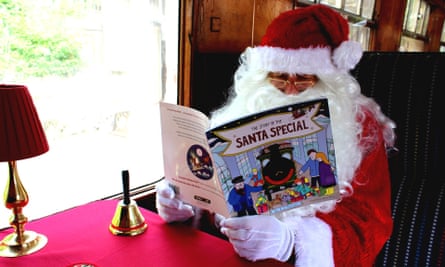 The B&W has been doing Christmas specials "our own way" for decades. The trains run through the Glynn valley, characterised by a spokesperson as "steeply wooded, lots of trees, glimpses of white, rushing water". Santa's grotto will be on the train, in the former bedroom of a saloon carriage, built by the Great Western Railway in 1881 to take Edward, Prince of Wales (later Edward VII) to various racecourses and other West Country indulgences. Speaking of which, I can personally recommend the Cornish pasties dished up by the B&W.
Running every weekend in December in the lead up to Christmas, and Thursday 21 and Friday 22 Dec, from £15.95, bodminrailway.co.uk
East Lancashire Railway, Santa Specials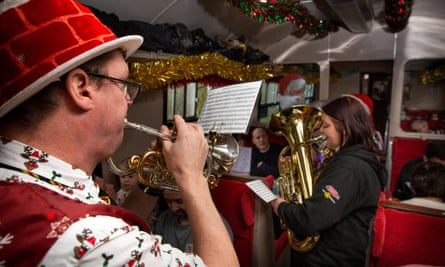 The East Lancs is unusual in being a heritage railway based in a large town, its main station being in Bury. It's also known for its progressive community outreach and the scale of its Christmas festivities. The gritty, part-Victorian, part-1950s Bolton Street station will become a Winter Wonderland, with a "choir" of mechanical polar bears, a "talking Christmas tree", "red sleigh photo opportunities", and Father Christmas supplemented by Mrs Claus and an Ice Princess. Nine trains a day over 13 days will serve an expected 40,000 visitors. They will run along the leafy Irwell valley, with Father Christmas handing out toys. Oh, and a brass band will also be on board.
Santa Specials start on 25 Nov, from £23, eastlancsrailway.org.uk
Caledonian Railway (Brechin), Polar Express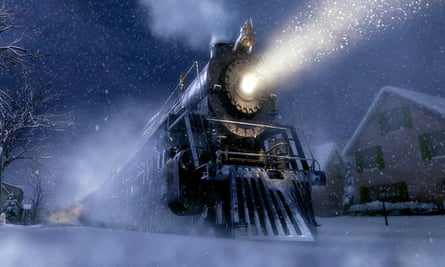 Polar Express events are licensed entertainments based on the 2004 children's film, extrapolated from Chris Van Allsburg's picture book about a nocturnal train that takes a boy to the heart of Christmas. Characters from the film are portrayed, including the dancing chefs, and participants old and young are encouraged to wear their pyjamas (at least as outer garments). Of the railways offering this, the one nearest the actual pole is the Caledonian Railway (Brechin), which runs from a town of 7,000 people (Brechin) to a village of about 20 (Bridge of Dun), through agricultural scenes that have hardly changed since the line opened in 1848.
Starting 18 Nov, from £28.95 plus booking fee, caledonianrailway.com
Epping Ongar Railway, Lights Express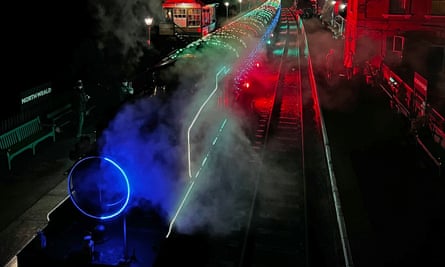 "Light trains" are another standard attraction, albeit with local variations. Trains are draped in lights that change colour, illuminating the engine's steam; there are also interior light shows, coordinated to music. This entertainment is likely to seem particularly surreal on the EO because of its coloured steam will be observable amid the trees of Epping Forest, which adjoins the line.
Starting 25 Nov, from £20, eorailway.co.uk
Nene Valley Railway, Yuletide Evening Express
This train, operating only on 9 and 16 December between Wansford and Peterborough, is for age 12 and upwards, so the emphasis is on drinks (and nibbles), and the pedigree of the "luxury European coaches" involved. These include an Italian restaurant car of 1926 with marquetry panels in rich mahogany framing and fine brass luggage racks. There is also a Belgian coach from the 1930s, which played the part of a bar car in the 2010 TV film Murder on the Orient Express. The coaches are magnificent, but trainspotterish literalism obliges me to mention that there never was a bar car on the real Orient Express. (The NVR is also running Santa Specials.)
Yuletide Express 9 and 16 Dec, table for two £90, nvr.org.uk
North York Moors Railway, Santa Specials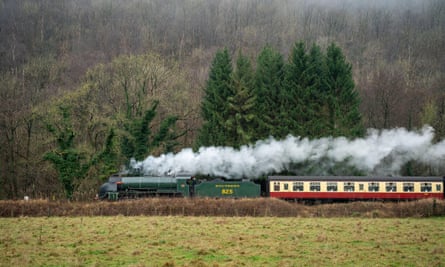 The NYMR's Santa Specials start from either Pickering or Grosmont stations. The former has the matt green trimmings of the inter-war LNER; the latter is in ivory and oriental blue, the strangely exotic colour scheme of BR North Eastern Region. Apparently, a strong rivalry has sprung up between the "station teams", as to which can best supplement these historical themes with Christmas decorations. The line's Santa Specials will feature the usual cast of characters and gift-giving, but landscape is what makes the NYMR special: lowering winter skies and the variegated shades of the moorland heather ensure that any photograph taken from (or of) its trains is a ready-made Christmas card.
Starting 25 Nov, £30, nymr.co.uk
Andrew Martin is the author of Steam Trains Today


Source Link