Article content
The Calgary Stampeders are all-in on Jake Maier.
Article content
So they went out and got the quarterback some shiny new toys Tuesday from the 2023 CFL Draft.
Article content
Specifically, the Stamps leaned to the offence in the annual pick-em, choosing two highly touted receivers, two offensive linemen, a tight end and a fullback with their 10 picks during the day of drafting, which included the morning's CFL Global Draft.
"Yeah … we loaded up," said Stampeders assistant GM/director of player personnel Brendan Mahoney. "We have faith in Jake as our quarterback, so we want to surround him with some weapons."
And how?
The Stamps targeted receiver Cole Tucker and got him with the fourth overall pick — ironically gained in their trade of QB Bo Levi Mitchell to the Hamilton Tiger-Cats. Then they plucked another pass-catcher in Clark Barnes with the 24th pick — their third selection of the night's national draft.
Article content
Both come with plenty of praise from scouts alike.
Then the club added to the offensive arsenal with massive tight end Sebastian Howard, a Calgary product, in the 49th slot in Round 6 and fullback Lucas Robertson 69th overall in the eighth and final round.
"We feel we've upped up the talent," Mahoney said. "With national players coming in and playing receiver, it gives us a lot of flexibility with the (Canadian/American) ratio when we're drawing up our 45-man roster. And it's going to offer competition in training camp."
While Tucker won't be in attendance for next Wednesday's start of rookie camp — he'll give the NFL a shot after accepting an invite to the Minnesota Vikings — the others are scheduled to join the Stampeders for the three-day introduction.
Article content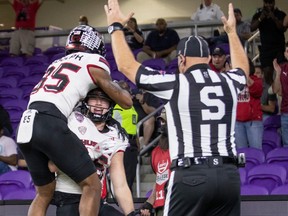 Here's how the draftees stack up:
NATIONAL DRAFT
WR Cole Tucker (1st round, 4th overall)
College: Northern Illinois; 6-2, 195 lb.
Tucker, whose mother hails from Brandon, Man., played 53 games in six seasons with the Huskies, hauling in 155 catches for 2,030 yards and 10 touchdowns.
Mahoney: "Smart, pro ready, with a very high football IQ. He's gonna be a reliable target that's going to be able to get open, and he'll challenge from Day 1."
DL Kwadko Boahen (3rd round, 22nd overall)
College: Alberta; 6-2, 285 lb.
An alumnus of Calgary's Bishop McNally High School, Boahen played 2022 with the Golden Bears, posting 21 tackles and one sack.
Mahoney: "Athletic interior player. He's a vertical pass rusher, who's athletic for his size, has really good hands and really good feet."
Article content
WR Clark Barnes (3rd round, 24th overall)
College: Guelph; 6-2, 193 lb.
The native of Brampton, Ont., played 14 games over three seasons with the Gryphons, making 38 catches for 516 yards and six TDs.
Mahoney: "He was a dominant U SPORTS receiver — tracks the ball as good as I've ever seen. He was the best receiver — by far — at the CFL combine. Wasn't even close."
OL Alexandre Marcoux (4th round, 33rd overall)
College: McGill; 6-2, 295 lb.
The native of Levis, Que., played 35 games and made 25 starts over four seasons with the Redbirds, seeing action at four of the o-line positions, including centre.
Mahoney: "He's a tough kid. He'll fight ya — he's aggressive. Good strong hands. He's a football guy you're gonna want in your locker room. He'll be a good teammate."
Article content
DL Ryan Leder (5th round, 42nd overall)
College: McMaster; 6-2, 235 lb.
The Hamilton native recorded 15 solo tackles and eight assisted tackles for the Marauders in 2022 in a career with 81 tackles and six sacks.
Mahoney: "Another tough kid — he plays the game with physicality first. Special-teams force, and another football guy that's gonna fit well in the room."
TE Sebastian Howard (6th round, 49th overall)
College: Saint Mary's; 6-6, 230 lb.
The Calgary native had seven catches for 69 yards in 11 games over two years with the Huskies, after playing high-school ball in Parksville, B.C.
Mahoney: "We just couldn't pass up to a man of his stature. He was challenged to compete and play physical at the combine, and he stepped up and did that."
Article content
K Campbell Fair (6th round, 51st overall)
College: Ottawa; 6-1, 165 lb.
The native of Carrying Place, Ont., was a second-team OUA all-star with the Gee-Gees in 2022, capping a 28-game career that saw him convert 48-of-68 field-goals. He also punted 98 times for a 37.7-yard average.
Mahoney: "Everything's pro — he's got a pro lifts, pro trajectory — the way it comes off his leg … and does have some eligibility left to return to school."
FB Lucas Robertson (8th round, 69th overall)
College: UBC; 6-4, 235 lb.
The Edmonton native played 19 games over three seasons with the Thunderbirds, making 21 catches for 173 yards and one TD.
Mahoney: "Catches the ball really well. He had his own personal pro day. He is gung-ho, telling us he wants to play."
Article content
GLOBAL DRAFT
OL Isaac Moore (1st round, 6th overall)
College: Temple; 6-7, 300 lb.
The native of Sweden was a five-year starter at left tackle for the Owls and set a school record with 57 consecutive games played.
Mahoney: "Athletic and moves his feet well. We need to work a bit on his physicality, but he can come in and provide depth at tackle."
LB Lino Schröter (2nd round, 15th overall)
Pro: Cologne (German Football League); 6-2, 225 lb.
The native of Germany was the Crocodiles' special-teams player of the year and most improved defensive player in 2021 and made the German league all-star team in 2022 after a 59-tackles, five-sack season.
Mahoney: "He's another physical player — we call him a face-first player — and really smart. We feel he's a bit of a blank canvas."
tsaelhof@postmedia.com
Check out our sports section for the latest news and analysis. Care for a wager? Head to our sports betting section for news and odds.