Jobs market key to severity of downturn to come, says economist
Article content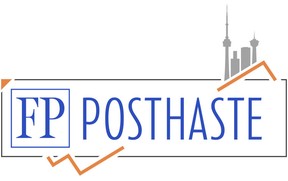 Article content
Canadians won't have to wait much longer to find out if the slowing economy sticks a soft landing or suffers a hard one.
That's because the labour market over the next six months will show whether employers are responding by merely implementing hiring freezes or going into full-blown layoff mode, said Charles St-Arnaud, chief economist at Alberta Central.
The labour market is in good shape right now, but, as a lagging economic indicator, "labour statistics are usually strongest on the eve of a recession," the former member of the Bank of Canada's economics team said.
Article content
The current unemployment rate is 5.7 per cent, close to a historic low, and the number of people working remains high. Still, signs of an economic slowdown are growing.
Economists such as Benjamin Tal at CIBC World Markets say Canada is in a downturn as measured by gross domestic product per capita. Others believe the economy is likely already in a technical recession, which is two quarters of negative growth.
After increasing interest rates to a two-decade high of five per cent, the Bank of Canada in its Oct. 25 decision said its policy decisions are cooling inflation and economic activity. As higher rates work their way through the economy, a process that usually takes six to seven quarters, their effects are expected to finally hit the labour market.
"The next six months may be the window to observe a more meaningful deterioration in the labour market," St-Arnaud said, and should establish whether Canadians find themselves in the midst of a hiring freeze or broad-based layoffs, which will make a huge difference to indebted households and to the economy.
For example, people are allocating 15 per cent of their disposable income to service their debts. The ratio of household debt to disposable income is roughly 180 per cent and insolvencies have rebounded to pre-pandemic levels.
Article content
St-Arnaud said it would be hard to imagine a family managing on one salary if layoffs take hold, given that consumers are already walking a financial tightrope.
"If one source of income disappears, the debt sustainability of that household is likely to evaporate," he said. "We argue that an income shock due to job losses would have a much bigger negative impact on the economic outlook, as borrowers will no longer be able to restructure their borrowing; this would force (them) to sell assets or default on their obligations."
That would spill over into the economy as home prices drop and banks become reluctant to lend.
Initially, employers, which have struggled over the past two years to fill vacant positions, might be reluctant to let people go. But St-Arnaud said that sentiment will likely only last as long as finances allow.
"There is a point where a business may have no other choice but to reduce its payrolls to reduce costs," he said.
Consumer debt levels are now "more significant than at the eve of any past recession," St-Arnaud added. "As a result, the impact of a recession and job losses could be non-linear and bigger than suggested by historical patterns," he said.
Article content
---
 Sign up here to get Posthaste delivered to your inbox.
---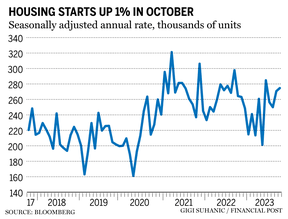 Canada Mortgage and Housing Corp. says the annual pace of housing starts for October ticked up from September.
The national housing agency says the seasonally adjusted annual rate of housing starts in October came in at 274,681, up one per cent from 270,669 in September.
The increase came as the pace of urban housing starts rose two per cent to 257,357 units, with multi-unit urban starts up one per cent at 209,887 and single-detached urban starts up nine per cent at 47,470.
Read the full story here.
---

The parliamentary budget officer will post two reports to the agency's web site, one costing out support for electric-vehicle battery manufacturing and the other on the cost of pausing the carbon tax on heating oil in the Atlantic provinces.

Federal Immigration Minister Marc Miller holds a press conference alongside his provincial and territorial counterparts following a meeting of the Forum of Ministers Responsible for Immigration in Toronto.

Today's data: Statistics Canada releases data on international securities transactions, prices for industrial products and raw materials; U.S. Census Bureau releases data on housing starts and building permits.
Article content
Get all of today's top breaking stories as they happen with the Financial Post's live news blog, highlighting the business headlines you need to know at a glance.
---


---

---

Jason Heath, managing director at Objective Financial Partners, speaks with the Financial Post's Larysa Harapyn about retirement planning strategies, including why you might consider deferring your CPP, tapping into your home equity and the case for working longer, even if it's just part time. Watch the video here.
---
Related Stories
Canada home prices slide as homebuyers go into 'hibernation'

Don't count on seniors to sell their homes anytime soon
Today's Posthaste was written by Gigi Suhanic, with additional reporting from The Canadian Press and Bloomberg.
Have a story idea, pitch, embargoed report, or a suggestion for this newsletter? Email us at posthaste@postmedia.com, or hit reply to send us a note.


Source Link