Kelly Clarkson will be "Underneath the Tree" this holiday season, literally, and now we're getting a look at the other musical guests.
The singer and daytime talk show star will host the annual tree lighting ceremony at Rockefeller Center on Nov. 29.
It is a fitting honor, as Clarkson has two wildly popular Christmas albums and recently moved her titular talk show from Los Angeles to the iconic Rockefeller Center.
The two-hour live show will air on both NBC and Peacock on Nov. 29 at 8 p.m. ET/PT. (Peacock is owned by TODAY.com's parent company, NBCUniversal.)
Clarkson will also perform throughout the Christmas special, marking 20 years since her first "Christmas in Rockefeller Center" performance.
On Nov. 14, NBC announced additional musical guests for the star-studded special: Chloe Bailey, Adam Blackstone, Cher, David Foster, Liz Gillies, Darlene Love, Seth MacFarlane, Barry Manilow, Katharine McPhee, Keke Palmer, Carly Pearce and Manuel Turizo.
The network's press release also says that "Blackstone and Palmer, Foster and McPhee, and Gillies and MacFarlane will perform holiday duets while Cher, in addition to performing solo, will be joined by Love for a special song."
Of course, the traditional appearance by the Radio City Rockettes will also happen, to the tune of their annual "Christmas Spectacular," held next door at Radio City Music Hall.
TODAY's Savannah Guthrie, Hoda Kotb, Al Roker and Craig Melvin are also slated to take part in the special.
"I'm so excited to consider this city and Rockefeller Center my new home, and I can't imagine a better way to kick off Christmas this year than to be a part of this beautiful New York tradition with the lighting of the tree!" Clarkson said in the statement released Oct. 26.
Clarkson has two Christmas albums — 2013's "Wrapped in Red" and 2021's "When Christmas Comes Around…" — and has performed several times over the years at the annual ceremony. She also previously hosted a Christmas special on NBC in 2021.
How to watch the Christmas tree lighting ceremony at Rockefeller Center
"Christmas in Rockefeller Center" will air on NBC stations across the country and live-stream on Peacock on Nov. 29 starting at 8 p.m. ET/PT.
Prior to the prime-time telecast, an additional live hour of the special will be broadcast on all NBC-owned stations and on numerous NBC affiliates nationwide, starting at 7 p.m. ET. Viewers should check their local listings.
The 7 p.m. special live hour will be hosted by "Access Hollywood" host Mario Lopez as well as NBC New York anchors Natalie Pasquarella and David Ushery.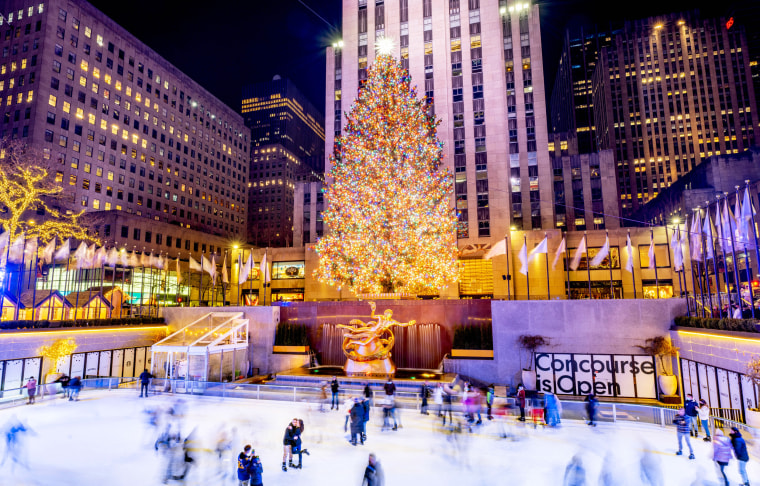 What is the history of the Christmas tree at Rockefeller Center?
Rockefeller Center first put up a giant Christmas tree in 1931. The first official tree lighting ceremony was held in 1933 and the iconic outdoor ice skating rink opened in 1936. The first televised tree lighting aired in 1951 on "The Kate Smith Show."


Source Link