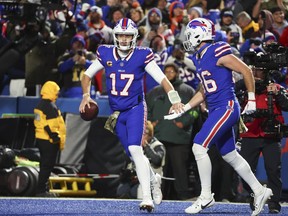 Article content
ORCHARD PARK, N.Y. — A subdued-looking Josh Allen blamed himself on Wednesday for overseeing a stagnating and turnover-prone offence that cost Buffalo Bills co-ordinator Ken Dorsey his job.
Article content
Jolting as it was for the quarterback to learn of Dorsey's firing a day earlier, Allen turned his attention forward. Unable to change the past, Allen stressed "the offence is not broken," saying the unit can perform to playoff-calibre expectations over the final stretch of a season in which the Bills (5-5) have little margin left for error.
Article content
"I take that very personally. It hurts a lot to see someone you care about go through a situation like that and to know that if I could have done more, if this offence could have done more, we wouldn't have to do something like that," Allen said as Buffalo prepares to host the division rival New York Jets (4-5) on Sunday.
"Our backs are against the wall. The clock's ticking on what we can do this season and it starts this Sunday to try to turn this thing around. I think it takes a lot to look at yourself in the mirror and say, 'What can I do that's been good and what can I do to fix what's been bad?′ That's what we've all got to do."
Article content
Reducing turnovers would be a start for Allen, who has thrown an NFL-leading 11 interceptions to go with three lost fumbles.
Recommended from Editorial
Buffalo Bills fire offensive coordinator Ken Dorsey after sloppy loss drops team to 5-5

PRIME TIME PICK: Take Burrow, desperate Bengals and the points in huge AFC North clash
Establishing a rhythm and reclaiming a long-lost swagger would help, too. Buffalo scored 123 points during a three-game run spanning weeks 2 to 4. That's the same amount of points the Bills have scored in dropping four of their past six.
The co-ordinator duties now fall to Joe Brady, who has spent the past two seasons as Buffalo's quarterbacks coach, and spent the two previous seasons as the Carolina Panthers offensive co-ordinator.
Article content
"He's got a lot of juice to him," Allen said of Brady, who is scheduled to address reporters on Thursday. "I'll give him as much input as I can. My phone line is 24-7. … If he calls me, I'm going to pick up and make sure we can get on the same page as quickly as possible."
Coach Sean McDermott made the decision to fire Dorsey within 12 hours of a 24-22 loss to Denver.
It was a game in which the offence turned the ball over four times with Allen throwing two interceptions and losing a fumble. The outcome was decided when Wil Lutz hit a 36-yard field goal as time expired after he missed a 41-yard attempt that was negated when Buffalo was flagged for having 12 players on the field.
Though special teams and a defence missing five starters played roles in the loss, much of the blame fell on an offence that matched a season low with 18 first downs and continued its long string of sputtering starts by committing turnovers on each of its first two possessions.
Article content
With only five days to prepare for the Jets, McDermott acknowledged it may take weeks for Brady to place his stamp on the offensive scheme. What he'd like to see immediately is Brady re-instil a sense of confidence and energy into the unit.
"Mistakes are going to happen. You're going to have good plays and bad plays," McDermott said. "At the end of the day, it's about the mental toughness, the grit, the resiliency of the unit to continue through all that."
The offence is taking the brunt of the blame for failing to help overcome an injury-depleted defence that's still limiting opponents to 18.4 points an outing. All five of Buffalo's losses have been decided by six points or fewer. Four of those losses have come during a six-game span in which the offence has failed to score 26 or more points to match Buffalo's worst stretch since 2018.
Article content
RECOMMENDED VIDEO
"It's one drive. If we didn't have a turnover, who knows if we'd end up with three or six (points)?" Allen said. "We're limiting our own opportunities. We're hurting ourselves."
Allen is no stranger to experiencing difficult losses or having an off-game since his career trajectory began pointing upward in 2019, when the then-second-year player helped the team to its first 10-win finish since 1999. He followed that up by leading Buffalo to three consecutive AFC East titles.
What's different today is Allen has never experienced a midseason crisis that led to a change in one of his coaches. He spent his first four seasons in Buffalo working under Brian Daboll, who left to coach the New York Giants. And Allen was close to Dorsey, who spent three seasons as the Bills' quarterbacks coach before being promoted to replace Daboll.
"I love Dorsey as a human being. … I feel like I owe him a lot of the success I've had," Allen said before saying he understands McDermott's reasoning for making the change. "It's unfortunate. But at the same time, we've got a game against a division rival on Sunday. And we still have time to turn this thing around."
NOTES: The Bills held a walkthrough session in which CB Christian Benford (hamstring) and safety Micah Hyde (neck/stinger) were designated as limited participants. Both did not play against Denver. … DT Jordan Phillips (knee) and WR Trent Sherfield (ankle) did not practice.


Source Link