Jacob Chansley's participation in insurrectionist mob resulted in felony conviction for obstructing official proceeding
Jacob Chansley, widely recognised as the "QAnon Shaman" for his distinctive appearance during the Capitol riot on January 6, has submitted paperwork to run for the House as a Libertarian in Arizona's 8th District. 
Chansley's participation in the insurrectionist mob resulted in a felony conviction for obstructing an official proceeding, yet he now seeks a political role within the democratic process.
The 14th Amendment, which has been invoked in lawsuits related to Jan. 6, has not prevented individuals like former President Donald Trump and Rep Marjorie Taylor Greene from participating in elections. 
However, a county commissioner in New Mexico faced removal under the 14th Amendment's insurrectionist clause after being convicted of illegally entering the U.S. Capitol grounds.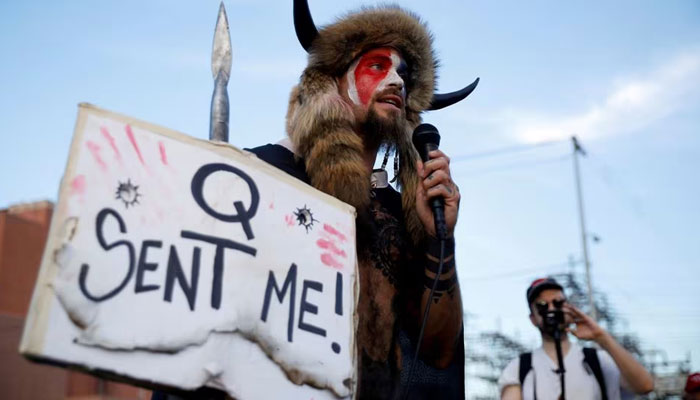 Chansley, known for donning a fur hat with horns and expressing grievances about jail conditions, previously affirmed his loyalty to Trump on "60 Minutes" but later conceded that entering the Capitol was "indefensible." 
Meanwhile, Chuck Hand, another Jan. 6 participant in Georgia, is running for the seat held by Democratic Rep. Sanford Bishop. Hand and his wife, the Republican Party chair of Taylor County in Georgia, were sentenced to jail for illegally demonstrating in the Capitol.
Despite legal challenges and public scrutiny, both Chansley and Hand have chosen to pursue political office. Chansley's decision aligns with the broader political landscape in Arizona's 8th District, where the absence of far-right Rep. Debbie Lesko has transformed the race into what is described as a "Mr. MAGA pageant."
The willingness of these Jan. 6 participants to engage in electoral politics, despite their role in an attack against democracy, raises questions about the state of morality in certain pockets of America. 
The fact that individuals implicated in the Capitol riot feel emboldened to seek public office underscores a concerning trend that may be indifferent to democratic values and resistant to accountability.


Source Link