Key events
"As an England man through and through," confesses Jeremy Boyce, "it is comforting to see that someone is going to get a worse shellacking than the one NZ gave us in the opening match. All the same, it is sad to see this kind of thing, like watching France beat Namibia 72 – 0. Where's the fun?"
There's a bit more fun than the rugby example you state, I think. Sri Lanka have some good, competitive cricketers – Madushanka's bowling demonstrated that – and just from a cricket purist's perspective, watching Kohli, Gill and Iyer bat and Bumrah, Shami and Siraj bowl today has been a delight and a privilege. Though India's dominance of cricket, on and off the pitch, might be an issue examined more critically and in greater depth in other moments.
Wicket! Madushanka c Iyer b Jadeja 5, Sri Lanka all out 55. India win by 302 runs
19.4 overs: Sri Lanka 55 (Theeksana 12*), target 358. Spin at both ends now, as Jadeja replaces record-breaker Shami, and he's creamed through the covers straight away by Madushanka – classy batting from Sri Lanka's best bowler. But that's all we're gonna get from him, as he slogs up in the air and is taken easily at mid-off by Jadeja to end the match. India are mathematically through to a semi-final place that has seemed theirs from the very start. Seven out of seven.
19th over: Sri Lanka 51-9 (Theeksana 12, Madushanka 1), target 358. Kuldeep has two slips in – proper Test match field – as Theeksana gives Sri Lanka the desultory consulation of reaching 50 with a push to mid-off. Madushanka is kept honest with some probing bowling but manages a drive for one to get off the mark.
Wicket! Rajitha c Gill b Shami 14
18th over: Sri Lanka 49-9 (Theeksana 11), target 358. Rajitha is batting well, leaning back and creaming a cover drive off Shami for four. Batting conditions are getting easier at a time when Sri Lanka's best batters have long missed their chance of benefiting from them. Rajitha flicks another two on the legside but the fun ends there, as a tired slashed edge is gobbled up by second slip to give Shami a five-wicket haul and India's World Cup record tally.
Some FanBantz:
17th over: Sri Lanka 43-8 (Theeksana 11, Rajitha 8), target 358. Was just wondering whether Rohit would let his spinners turn their arms over, and on comes Kuldeep in place of Siraj – who'll be held back for the death overs now. Rajitha squirts a single to backward point off one that turns away encouragingly and Theekshana is then beaten by a quicker ball. What a bowling attack this is.
16th over: Sri Lanka 42-8 (Theeksana 11, Rajitha 7), target 358. Shami, now India's joint record wicket-taker in World Cups, continues in search of a five-fer. Rajitha nudges a single off his hips before Theeksana sends an elegant straight drive past the bowler for four – lovely shot. And it means Sri Lanka have now avoided the ignominy of suffering the heaviest-ever ODI defeat in this match. Small footsteps
15th over: Sri Lanka 37-8 (Theeksana 7, Rajitha 6), target 358. A confident cut by Rajitha off Siraj behind square for one takes Sri Lanka above the World Cup lowest-ever. It's the only run of the over but this is the most comfortable and confident-looking partnership of Sri Lanka's innings.
14th over: Sri Lanka 36-8 (Theeksana 7, Rajitha 5), target 358. Sri Lanka need to get to 41 to avoid suffering the biggest-ever losing margin in ODIs here. That cause is jolted badly when Shami scatters Matthews' stumps. But Rajitha boosts Sri Lanka's chances of avoiding ignominy with a decent cover drive for four first ball before being cut in half by a back-of-a-length inswinger. They run a bye after Rahul fumbles. Another couple of singles and Sri Lanka are motoring, now level with the lowest-ever World Cup score.
Wicket! Matthews b Shami 12, Sri Lanka 29 for 8
First-change bowler Shami has four! He castles Matthews ruthlessly – and we won't be detained much longer.
13th over: Sri Lanka 29-7 (Matthews 12, Theeksana 6), target 358. Ben Barnards helpfully writes in to tell us that the record low ODI score is 35, from Zimbabwe against Sri Lanka in 2004, and by USA against Nepal in 2020. So all to play for here. Matthews pushes a single against Siraj but Theeksana can't work him away initially, awkwardly playing out two dots before producing the shot of Sri Lanka's innings with a firm square drive for four. He follows that up with a similar one for two more.
Sri Lanka won't want to be reminded that the record winning margin in an ODI is held by India, against them, only this year.
12th over: Sri Lanka 22-7 (Matthews 11,Theeksana 0), target 358. We have a pause in play as Unicef ambassador Sachin Tendulkar invites the crowd to "turn the whole stadium blue" as part of the "One Day 4 Children" for children's rights. And the Wankhede is duly lit up with luminous blue wristbands – a gesture of altruism in a world gone bad, particularly for its young.
Anyway Shami continues and continues to ask questions, as Matthews inside-edges uncertainly to square leg for a single. A wide takes Extras into double figures – but Shami suspects a tickle, reviews for a caught behind, and his suspicions are vindicated. Chameera is another out for a duck. The new man, Theekshana, is greeted with yet another lovely outswinger. Shami has three for one.
"Hi Tom. Time for you to reschedule all your canceled plans for the evening," says V Krishnamoorthy, paying me the compliment of assuming I have any sort of social life to rearrange. What with the Michael Bevan thing from Rob, now this, my fragile ego has had quite the boost today.
Wicket! Chameera c Rahul b Shami 0
When you're hot you're hot. Shami angles one down the legside. The umpire calls it wide. Shami calls it out, via a legside tickle. The review confirms Shami's version of events – wicket No 7 falls.
11th over: Sri Lanka 21-6 (Matthews 10, Chameera 0), target 358. Siraj isn't being kept out of this – he's on at the other end now. Matthews flicks to deep midwicket to move to the brink of double-figures and he then brings up his 10, courtesy of a rare misfield. They then pick up a boundary – but this, too, is a fine delivery, a searing scrambled-seam inswinger that cuts Chameera in half and beats the keeper for four byes – 7 (seven) from the over! The fightback's on.
10th over: Sri Lanka 14-6 (Matthews 7, Chameera 0), target 358. Shami is invited to join the fun and the attack, and how! He strikes third ball. Then Hemantha, in the side today for Dananjaya, lasts one ball, edging lazily behind to put Shami on a hat-trick. Three slips are in for the new man, Chameera, who plays out a back-of-a-length ball to survive his first ball. He does similar to survive his second. Just the double-wicket maiden to start Shami off.
This is the first time in this World Cup that five wickets have fallen in the first 10 overs.
Wicket! Hemantha c Rahul b Shami 0
Another tempter outside off, the batter takes the bait and edges behind to the keeper. Shami is on a hat-trick
Wicket! Asalanka c Jadeja b Shami 1, Sri Lanka 14-5
Asalanka finally plays an attacking shot, and belts it straight to Jadeja at backward point.
9th over: Sri Lanka 14-4 (Asalanka 1, Matthews 7), target 358. Ball makes contact with bat! Admittedly it's an edged squirt to deep backward square that was nowhere near where Matthews intended it to go, but it brings him a single. Asalanka has to remain defensive against this standard of bowling though before finally getting off the mark – off his 21st ball! – with a push to mid-on.
NS Nigam emails in with an example of why our own Rob might be worth tapping up for the lottery numbers, with a reminder of what he said late in India's innings: "A single off Madushanka make this Shreyas Iyer's highest score of the World Cup. All India need now is a Mohammed Siraj five-for and they'll have everyone in form."
8th over: Sri Lanka 12-4 (Asalanka 0, Matthews 6), target 358. This is like the opening hour of a Test match, with batters reluctant to hit out at anything against a rampant attack – and they're struggling to get bat on ball anyway. Siraj sends down a bouncer at Asalanka and follows up with a spot of verbals with Matthews at the non-striker's end. Rohit must be tempted to let this pair bowl out their full 10 each here. Another maiden.
7th over: Sri Lanka 12-4 (Asalanka 0, Matthews 4), target 358. The crowd are doing a "5-4-3-2-1" countdown as Bumrah comes in to bowl. Matthews works him away nicely for two before the bowler errs with a rare wide. Nowt wrong with the rest of the over though, including another outswinger that Matthews nibbles uncertainly at and misses.
"I think India vs SA at Kolkata is shaping to be the final before the final. Unless SA choke against Australia in their SF?" says Arul Kanhere. "Who is to say Pakistan can't pull off a blinder by knocking India out. That will be some upset." That strikes me as extraordinarily unlikely, and therefore not beyond Pakistan. And history suggests that one of India or SA are headed for a semi-final choke.
6th over: Sri Lanka 9-4 (Asalanka 0, Matthews 4), target 358. There's everything a fast-bowling connoiseur wants to see here – movement, pace, variety, accuracy, as Siraj has Matthews hopping back to backward-defensive out the first ball of the over. The third is a wide, mind, down legside – too much ing variety. Another extra ensues when Matthews is hit on the pad – Siraj ambitiously appeals but it's clearly wide of leg-stump and they run the leg-bye. Siraj wraps up another fine over with an unplayable outswinger that Asalanka plays at and misses.
Of the 33 games at this tournament (including today), only nine have been won by the team that won the toss. Coins, who needs 'em, in the cashless society we are in-part becoming?
5th over: Sri Lanka 7-4 (Asalanka 0, Matthews 4), target 358. Bumrah serves up another maiden, with his probing length and line, and movement off the seam and in the warm evening air. Asalanka can only play out six dots and be grateful for them. I think Sri Lanka are a tad behind the rate here.
4th over: Sri Lanka 7-4 (Asalanka 0, Matthews 4), target 358. The mayhem continues as Siraj picks up his third with a beauty to bowl the Sri Lanka captain. This is as good and penetrative new-ball seam bowling as you will ever see with a white cricket ball. The man we're contractually obliged to preface with "wily old campaigner", Angelo Mathews, is now in – and what a lot of wilyness Sri Lanka need. He plays out four threatening dots before a nicely timed clip through midwicket BRINGS A FOUR. Siraj's figures are 2-1-3-4 – and he's someone who's by no means a guaranteed starter in this team.
Has anyone got a quick WinViz update on Sri Lanka's chances?
Wicket! Mendis b Siraj 1, Sri Lanka 3-4!
This is getting ridiculous. Siraj castles Mendis without an absolute beauty, not dissimilar to the one Madushanka got Rohit with earlier, banged in, nipping away, knocking back off stump.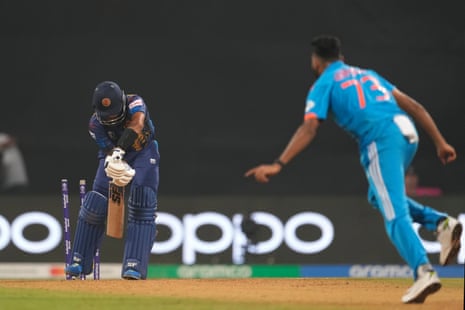 3rd over: Sri Lanka 3-3 (Mendis 1, Asalanka 0), target 358.Bumrah's threat is constant, and he almost induces Mendis to play on with a quicker delivery. Then he pins him on the pads, his appeal is turned down, a cocksure India review. It's slanted in at him and is going down leg. But it was one of those that looked worth a shout in real time. Then Mendis finally gets off the mark with a flick towards fine leg.
Hard to think about anything else amid this hubbub but Jeremy Boyce has some more thoughts about the State Of Things:
"Thinking about your point about the non-levelling up of international cricket, let's look back at the 2003 OD World Cup. 14 teams were present, as opposed to the 10 this time, so it's obviously harder for the tier 2 teams to make a mark if they're not actually playing. The big change has been the emergence of Afghanistan, replacing Zimbabwe at the top table. But hats off to the Cloggies/Dutch, who are there this time as part of the top table, whereas they were only part of the 4 'extras' in 2003.
Cricket is in a similar situation to rugby, there are plenty of decent teams knocking at the door, but the big teams don't want to let them in, the schedules are already too crowded. But the best way for smaller nation teams to progress is more regular games v the top table mob, not just the odd match here and there, and a WC every four years….look at the analysis and comments about England not having a settled team, that they all used to know each other inside out and therefore the wheels turned more efficiently, but not this time. This suggests it is not so much about a superstar in every team, more that it's a proper 'team' game with everybody understanding and fulfilling their role."
2nd over: Sri Lanka 2-3 (Mendis 0, Asalanka 0), target 358. How many times in ODIs have both opening batters been out first ball? Well it's happened jere as Karunaratne is pinned lbw. He's almost on a hat-trick too, as Samarawickrama is given out first ball, wafting outside off and the on-field umpire giving it out. But the review showed no contact with the bat. But Siraj is not to be denied, and gets his man fourth-ball instead.
Wicket! Samaawickrama c Iyer b Siraj 0, Sri Lanka 2-3
Carnage! Samarawickrama, having survived a review first bnall, goes fourth ball, hacking to the extra slip.
Wicket! Karunaratne lbw b Siraj 0, Sri Lanka 2-2
Is another opener out first ball? He is. Siraj brings one in to the left-handed Karunaratne, hits him on the right pad. The batter reviews but it's to no avail – this, too, is rapping middle.
1st over: Sri Lanka 2-1 (Karunaratne 0, Mendis 0). We are privileged to be living in Jasprit Bumrah's time. Pandemonium as Bumrah snares Nissanka with the first ball of the innings – it's a brilliant away-nipper that is slanted in and holds its line. Then he greets the new man, the captain Mendis, with a wide-ish one down the legside that's brilliantly taken by Rahul behind the stumps. The next one is similar before another absolute jaffa is seamed past his outside edge. Then Bumrah nearly strikes again as his slower ball prompts Mendis to offer a caught and bowled chance that just pops over the bowler's head. Just a brilliant opening over.
"358 is not a daunting score to chase," scoffs V Krishanmoorthy. "It starts looking like one when you see the human catapult aka Bumrah runs in……." In other words, it is a daunting score. None more daunting.
Wicket! Nissanka lbw b Bumrah 0
Is Nissanka out first ball here? He is! Nissanka is struck on the right knee roll, the finger goes up straight away, and review confirms it was hitting the top of middle. A sensational start from a sensational bowler and one of Sri Lanka's too-few form men is gone.
The players are on their way back out …
Stat-gasm dept: Here's a thing: In the first 12 World Cups, from 1975-2019, there were seven instances of a captain from a Test-playing nation fielding first and conceding 350+. Today is the seventh time it has happened in this tournament alone.
Just wondering how this dovetails with the fact that this has been the most day/night-heavy World Cup I can recall. Very few games have been played entirely in daylight.\
Here's another top stat courtesy of India's most devout:
Talking of 1995-2005, Sky is showing a Sachin Tendulkar retrospective, albeit reminding us too of how horribly India choked in the 2003 final. Sachin's innings against Pakistan in that tournament was quite the thing of majesty.
Cheers, as ever, Rob, and thanks for the compliment (though could do with an Andy Bichel figure at the other end, which is where you, the OBO faithful, come in). But riffing on a figure from the turn of the millennium enables me to crank out my old pub-bore theory that 1995-2005 was the golden age of international cricket. Every team had an all-time great during this period, standards rose and the gap between sides narrowed.
Perhaps no one embodied this more than Sri Lanka, who are one of a number of sides who've underperformed in this World Cup (see also Pakistan, Bangladesh and of course England). Perhaps this is all just a reflection of the uncertain status of 50-over cricket at the moment. Anyway, it looks as if India are swaggering towards a seventh straight win and Sri Lanka need to show some consistent batting than they did bowling (some of which was excellent but not plentiful enough to exert pressure).
Still, their only two wins have come when chasing and perhaps they'll click. So stick around, send thoughts, random stuff about music, whatever (though you'll get no Pink Floyd blether from me, a pop-crazed youngster who balks at songs longer than five minutes max, unless it's Rappers' Delight or something).
That's all from me. Tom Davies, the Michael Bevan of the Guardian sports desk, is ready to talk you through Sri Lanka's historic runchase/predictable collapse. You can email him here.
Thanks for your company. See you for New Zealand v Pakistan on Saturday: 4.30am UK time, don't be late.
Talking of which, here's Shreyas Iyer's verdict
It was a pretty good pitch to bat on. Our openers and Virat steadied the ship so that we could come out and really express ourselves. That [second-wicket] partnership was of paramount importance. We got a message that the ball was holding a bit, especially the slower ones, so we had to look for that delivery rather than premeditating shots.
That's another tale of what might have beem for Sri Lanka. Shubman Gill and Virat Kohli punished them for early dropped catches, and the fielding was scruffy throughout. The bowling held up pretty well in the face of a ferocious assault, with Dilshan Madushanka hoodwinking five of India's celebrated top six.
India will be happy with that total on an occasionally awkward pitch, and even happier that the two batters most in need of runs got them. Shubman Gill stroked a run-a-ball 92 before Shreyas Iyer spanked six sixes in a 56-ball 82.
Sri Lanka need 358 to win
50th over: India 357-8 (Jadeja run out 35) Ravindra Jadeja is run out off the final ball of the innings. Rajitha has had a tough day but he used his variations beautifully to keep India to just five from the last over.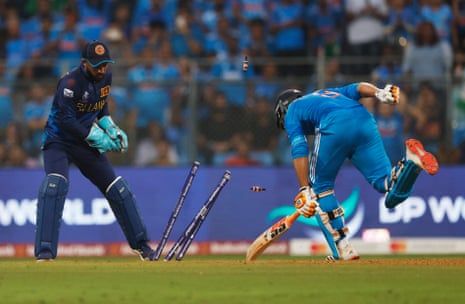 WICKET! India 355-7 (Shami run out 2)
Mohammed Shami tries to get Jadeja on strike and is run out by the keeper. Three balls remaining.
49th over: India 352-6 (Jadeja 31, Shami 2) Jadeja hurries India past 350, smoking Chameera over long-on for six. He is (very) quietly having an excellent tournament with the bat: average 79, strike rate 101. He's the No7 for all occasions, from nervy runchases to festivals of death-hitting.
48th over: India 339-6 (Jadeja 19, Shami 1) Madushanka ends with peculiar figures of 10-0-80-5. It's the most expensive five-for in World Cup history, and the second most expensive overall. But this is no Patterson Thompson tribute: he bowled superbly, with intensity, skill and intelligence. Without him India would probably have made 400.
WICKET! India 333-6 (Shreyas Iyer c Theekshana b Madushanka 82)
Shreyas Iyer could yet make a century here. He picks Madushanka's slower short ball and mullers it into the crowd at midwicket. Another mighty straight six makes it consecutive sixes and takes him into the eighties with 16 balls still remaining.
Madushanka is doing the death bowler's hokey cokey: over the wicket, then around, then back over. But it pays off in the end. A very wide slower ball is sliced miles in the air by Shreyas Iyer, and Theekshana steadies himself in the covers to take the catch.
Shreyas goes for a confidence-boosting 82 from 56 balls, with six sixes, and the outstanding Madushanka has a five-for. He looks like the real deal.
47th over: India 320-5 (Iyer 70, Jadeja 14) Iyer reacts beautifully to glide a full toss from Chameera between backward point and short third man for four.
Sri Lanka's poor fielding performance continues with a needless overthrow. A selection of ones and twos make it 11 from the over. India's running has been very good all day; Jadeja is going at a run a ball yet he hasn't hit a boundary.
46th over: India 309-5 (Iyer 61, Jadeja 12) A boundaryless over from Rajitha. That's all Sri Lanka can ask for at this stage, I guess. But it feels like India already have more than enough.
45th over: India 304-5 (Iyer 59, Jadeja 10) A quicker yorker from Theekshana goes through Mendis's legs for four byes. Shreyas waves his bat to suggest he got a touch, but the umpire is not for turning. Replays aren't conclusive, though my hunch is he did nick it.
Theekshana ends a hard afternoon's work with figures of 10-0-67-0.