Henri Lansbury remembers the moment he found it, in the shower after training at Nottingham Forest. It was 2016. An ordinary day. But there it was. "A little, pea-sized lump," he tells Sky Sports.
The former midfielder tried to push it to the back of his mind. "Over time, I thought it would just go away," he says. But it was wishful thinking. Weeks turned into months and it was still there.
"Mentally draining," is how he describes it now. "Obviously, being a footballer and finishing training, you're going to sit back at a flat and just wait for training the next day. You're feeling it and, in the back of your mind, you're thinking, 'What is it? What is it?'
"We broke up for the summer and I was about to go on holiday. But it was eating away at me, having it and not telling anyone and just trying to deal with it myself. It came to a point where I felt I had to see someone and get someone to help me out."
Even then, as Nottingham Forest's captain, approaching his prime aged 25, Lansbury was reluctant to tell anyone at his club.
"First of all, I just went down the local hospital, to see if I could get it checked out," he says, "but they said the wait time was a few weeks. I was going on holiday. I didn't want to go away with it."
So, after months of internal agony, he finally decided to speak to the medical staff at Forest. He was glad he did. "They put me in contact with someone to get it checked out and I had a scan there."
A diagnosis of testicular cancer came back almost immediately.
"I had the scan and they said, 'OK, we'll give you the results back in a bit.' As I've left to get in my car, the doctor from Nottingham Forest has called me to say, 'Can you go and pack a bag? You're going back in for the operation tonight.'"
Lansbury rushed home, his head spinning. There was just enough time to inform those close to him. "A couple of friends and my family," he says. Next thing he knew he was being readied for surgery.
"It happened quickly. I can remember being on the laughing gas, trying to talk to them and being out. Then I woke up with Kieran Gibbs next to my bedside table, laughing that I had one nut."
Lansbury can find humour in it now. His procedure was a success and the Arsenal academy graduate went on to play for another seven seasons, living healthily, free of cancer, and having a further two children to add to his first with his wife.
After Forest, there were spells with Aston Villa, Bristol City and, finally, Luton Town, where he won promotion to the Premier League for the fourth time in his career before announcing his retirement last summer, aged 32, due to an unrelated thigh injury.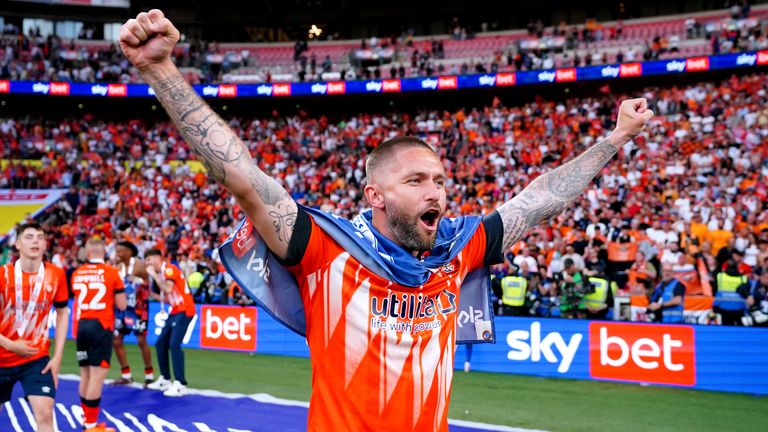 All the while, he had kept his cancer ordeal quiet, known only to his friends, family and certain team-mates. He only mentioned it publicly for the first time in the statement announcing his retirement. This is the first time he has discussed it in detail.
"It was just that I didn't really want that sympathy vote," he explains. "I like to keep things close to my chest and deal with them myself. Now that I'm open and honest about it all, I would love if I could help anyone. Even if it's just one person."
Lansbury has teamed up with leading men's health charity Movember, which is why, on this cloudy Tuesday at the end of October, he is in his local barbershop in Potters Bar, Hertfordshire, about to go clean-shaven in preparation to grow out his moustache.
"It's been years," he says with a smile at the prospect of a wet shave. "How strong it will grow, I don't know. But I'll be looking forward to growing it out and I know my wife will be looking forward to it as well."
Movember's mission
Since 2003, Movember have funded more than 1,300 men's health projects around the world, challenging the status quo and transforming the way health services reach and support men while prioritising mental health, suicide prevention and prostate and testicular cancer.
What really matters, of course, is the money he is able to raise for the charity and the message he is able to get across. Testicular cancer is the most common cancer in men aged between 15 and 34 but, as Lansbury knows, seeking the required help can be hard.
"I think it's just men in general, having that ego," he says. "'I'm a man, I can do this myself. I can get rid of it or it will go down.'
"As a man, you build up this wall in front of you, but you've just got to knock it down in this situation. Let somebody else help you to help yourself. It's a hard thing to do, but once you pluck up the courage and speak to someone, it makes it a lot easier to deal with.
"The mental side of it is so draining but, if I could say anything to anyone, it would be to drop your ego and go and see someone who can actually help you. You can't help yourself in these situations. It will just eat and eat at you until you go and speak to someone."
Lansbury knows he was lucky, firstly that Nottingham Forest had the resources to get him urgent treatment, and secondly that the cancer had not spread when he underwent his operation.
As a man, you build up this wall in front of you, but you've just got to knock it down in this situation. Let somebody else help you to help yourself
"They offered me chemotherapy and radiation going forward, but I was quite reluctant, just because I wanted to get back playing," he says. "Touch wood, I had no signs of it coming back.
"I just had to get checked every three months. Then, after the first year, it went down to six months. After that, it was once a year."
Amazingly, he was back on the pitch at the start of the following season, playing the full 90 minutes in Forest's opening game.
"The rehab wasn't too long because it was the period of summer," says Lansbury. "I didn't go on holiday, so I was just sat at home letting the stitches heal. After they came out, I was back running and just trying to take my time to build myself back up."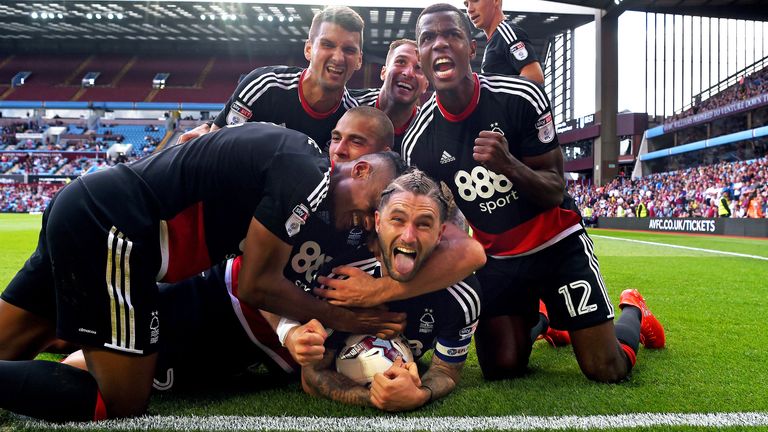 He scored his first goal after the illness in a 2-2 draw with Aston Villa in September 2016. "There was a celebration that signalled that I only had one left," he chuckles. "It was just a close friend's joke, but it was a massive relief to score my first goal after coming back."
Lansbury was immediately mobbed by his team-mates and he remains grateful for how they rallied around him.
"They were brilliant," he says. "Everyone at Nottingham Forest and even at Aston Villa at the time when I was moving. They were all around me, all straight to me. If I needed anything, it was there.
"That was the main thing that comforted me after, on the rehab side of it, that everyone was willing to help as much as they could."
Lansbury on his former clubs
On Arsenal: "They've got a great squad. It's nice to see them up back where they belong. Obviously, Arsenal's academy is renowned for bringing great players through. Hopefully this year they can get one step closer and Mikel can take the boys to the title."
On Nottingham Forest: "They deserve the success. The fans, the whole city is brilliant. In the years I was there we were close to getting promoted but didn't quite make it. To see them up there fighting is brilliant."
On Luton: "One way or another, we knew we were going to go up. They've just got to stick together the whole way through the season. They will pick up results because the Kenny is not a nice place to go. I think a few of the big teams will be shocked when they go there."
He is especially thankful to Villa, who, in January of 2017, did not let his admission about what he had been through only a few months earlier put them off signing him on a long-term contract.
"That settled my mind right down, knowing that I could still continue to play, and that Aston Villa were still willing to take me, even though I did mention it during my medical," he says.
"The doctor was totally fine with it. He just said, 'Don't worry about it, you're here to play football, so let's just get on with that.' I think that was a bit of a worry, knowing that I'd had that and that it could possibly come back, but they were so supportive."
Lansbury cherishes the memories of his playing career but a new grass fertiliser business is keeping him busy – "I've had no time to think about not playing," he grins – and there are no regrets that it was cut short by injury. Not after what he went through.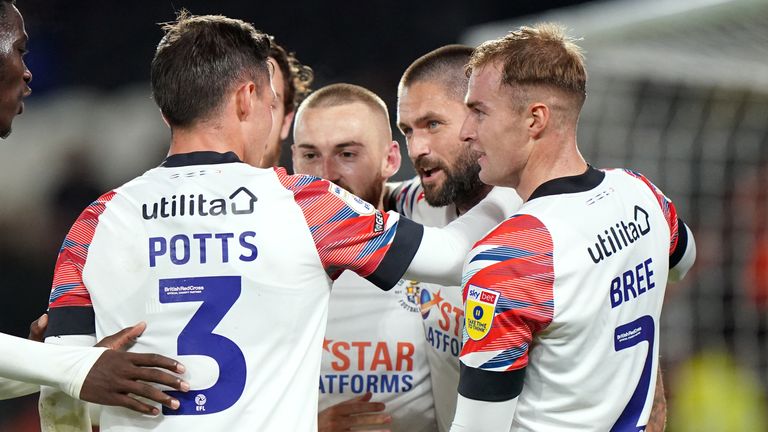 "Definitely," he says when asked if the experience changed him. "Now, my outlook on life is to just go and live every day as it is. Smile, have fun every time you can and just make the most of it."
It is with that attitude that Lansbury makes his way over to the barber's chair for his Movember shave-off – "I might have to put some fertiliser on it," he jokes – but not before one last message to anyone in the same position he found himself in back in 2016.
"I would say go and get it checked as soon as possible," he says. "It will only help you. Let the experts do what they are paid to do and relieve you of your stress and your worries."
It is a message worth heeding this month and beyond.
This Movember, unite to take on mental health, suicide, prostate and testicular cancers. Sign up or donate now at Movember.com. Raise funds. Save lives.


Source Link