We've seen Asus and Logitech take a swing, now Lenovo wants a turn at bat to take on the Steam Deck. The Lenovo Legion Go is another portable, AMD-powered, Windows-running game machine, but with some premium parts and a few tricks up its sleeve. In addition to removable left- and right-hand controllers, a la the Nintendo Switch, the design also shifts into a sort of gaming mouse setup. Lenovo will be selling an add-on set of VR-style glasses that give the gadget an immersive wearable display.
At the heart of the Legion Go is "up to" an AMD Ryzen Z1 Extreme APU, the same chip powering the Asus ROG Ally. It's packed with 16GB of DDR5 memory and 256GB of M.2 Gen 4 storage (upgradable to 1TB). That's powering a relatively huge 8.8-inch 2560×1600 IPS screen with 144Hz refresh rate and 500 nits of brightness — a big upgrade over both the Steam Deck's 7-inch 800p, 60Hz panel and the Ally's 1080p 120Hz panel at the same size.
Update: You can see our initial hands-on impressions of the Lenovo Legion Go in the video below.
But the pure numbers aren't the Legion Go's true appeal. Those snap-off controllers didn't come to play…well, they did come to play, they're for playing games…um, they're a big deal. In addition to the standard triggers and shoulder buttons, the left side features two extra rear programmable buttons (typically hit with the middle and ring finger). The right side has a touchpad, four extra buttons default bound to a typical mouse layout, plus a mouse wheel. Lenovo says this "FPS mode" is for shooters, with an optical sensor on the bottom enabled when the controllers are removed and the gadget's rear kickstand is extended. A little round stand you can slot the right controller into turns it into a sort of modified vertical mouse.
Lenovo
Other hardware goodies include a 49.2 watt-hour battery with "Super Rapid Charge" that can pump it up to 70 percent in half an hour, plus a battery bypass mode that powers the unit directly from an outlet to preserve the battery's longevity and avoid unnecessary heat. At max power the system can run at 25 watts of TGP. Double USB-C ports allow for charging and plugging in accessories at the same time, with DisplayPort 1.4 handling external video duties (which should be able to output 4K TVs at high refresh rates, no problem).
Legion
That's a lot of extras compared to the original Steam Deck design. But perhaps the biggest and flashiest add-on is the sold-separately Legion Glasses. This "wearable monitor" headset plugs in via USB-C to deliver a 1080p OLED video signal to each eye at 60Hz. While not as impressive or as technologically advanced as a full VR headset, it should offer similar levels of immersion to something like TCL's Nextwear or RayNeo XR, minus the augmented reality. And thanks to the USB-C video standard, it'll work with other devices too, including laptops, tablets, and smartphones.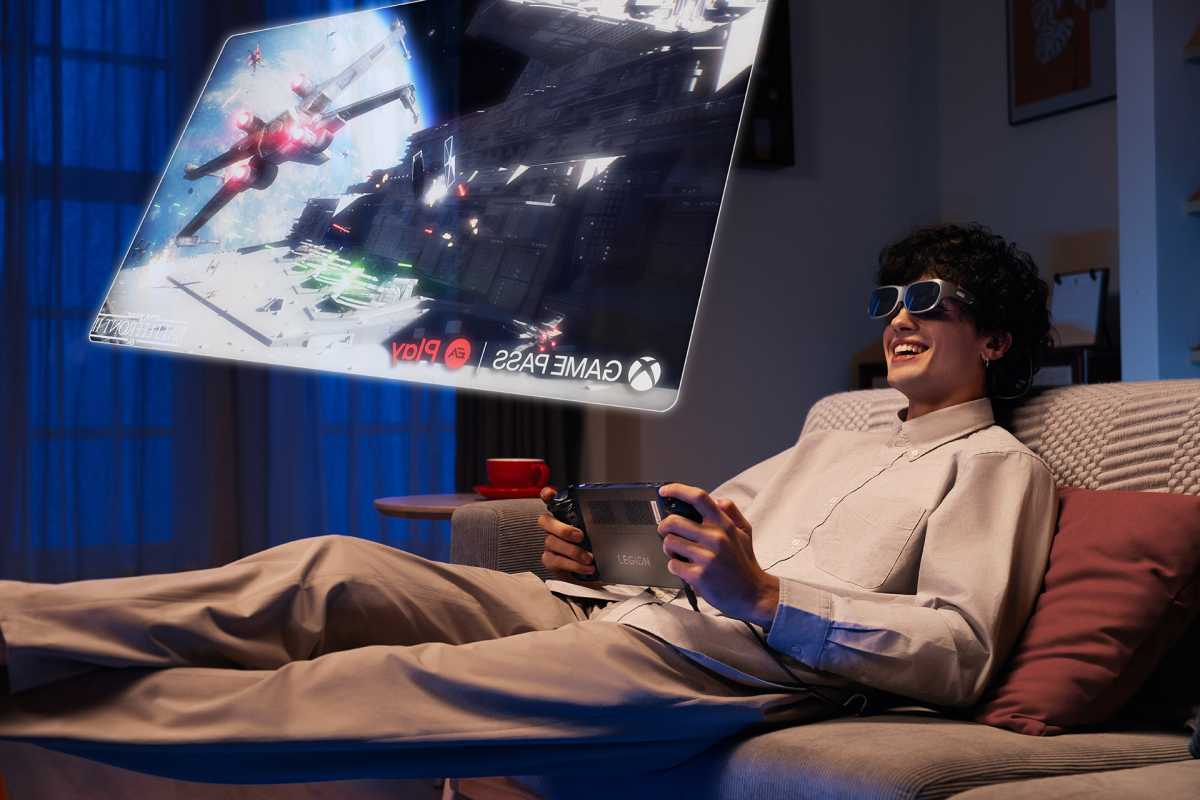 Legion
The Legion Go is coming in October, starting at $699 for the base configuration, the same price as the ROG Ally but well above the $400 floor of the Steam Deck. Pricing for upgrades (because 256GB is barely enough to run Baldur's Gate III) wasn't shared, but you should be able to provide your own SSD if you want an inexpensive storage boost. It'll come with a free 30-day Xbox Game Pass code. The Legion Glasses will be a hefty $329 on top of it — most of the cost of a Meta Quest 2 headset, for context — but again, they'll work with other gadgets that can output video via USB-C.


Source Link