Article content
The calendar has turned to September and hockey season is just around the corner.
Article content
The Ontario Hockey League's Ottawa 67's have already kicked off their training camp at TD Place Arena and, across the river, the Quebec Major Junior Hockey League's Gatineau Olympiques also are well under way.
Article content
At the Canadian Tire Centre, general manager Pierre Dorion, coach D.J. Smith and the rest of the staff are ramping up for the arrival of new owner Michael Andlauer some time in the next couple of weeks while also preparing for training camp.
The rookie tourney will be held from Sept. 15-19 in Buffalo and main camp will get under way on Sept. 20 in Ottawa. With those dates in mind, Postmedia had a chance to go one-on-one with Smith on Wednesday to discuss a number of subjects.
"I'm excited. I was brought here to develop a lot of these kids, help with the transition and the rebuild," Smith said. "We've had some terrible luck with injuries or whatever the reason may be. We've always said we're going to be a (salary) cap team and here we are.
Article content
"We're starting with everyone healthy and there won't be any excuses. My first three years, the other team had the top three best players and we had young guys trying to find their way in the league. There are going to be nights when we have the best players. That's a good feeling for a coach and our job is to make sure we're doing good things and working just as hard."
RETURN OF JOSH NORRIS
The Senators were without their top centre for most of last season after 24-year-old Josh Norris suited up for only eight games.
Heading into the second season of an eight-year deal that pays him $7.95 million per year, Norris is coming off shoulder surgery he had in January to repair an ailment he tried to rehab first.
A healthy Norris will be a key addition.
Article content
"The biggest pickup is Josh Norris," Smith said. "We played a whole season without Josh Norris, and we think he's a 30-plus (goals) guy."
Norris finished with 35 goals and 55 points in 66 games with the club in the 2021-22 NHL campaign. He will keep the opposition on their toes and has a shot that can find the back of the net, especially from the right circle on the power play.
The good news: Norris is healthy and ready to go.
"He's practising, he's been in town for a bit and he's going to get lots of exhibition games and lots of touches," Smith said. "There was talk maybe he'd play at the end last year and we held him out. He's had an entire summer to strengthen it and he's in a good place.
"He missed a year. He's not just going jump right back in, but with camp and everything ,we expect he'll be in the right form before long."
Article content
DEPTH IN THE MIDDLE
The Senators should have a strong 1-2 punch with the return of Norris plus Tim Stutzle, who posted 39 goals and 90 points in 78 games last season.
Smith is confident that with sophomore Shane Pinto in a third-line role, the club will have good depth in the middle.
A restricted free agent, Pinto has to be signed before camp, but the indications are the two sides aren't close, but the hope is a deal will be done soon.
"The biggest thing I've always been excited about here is those three centres and I've never had the opportunity to use them all," said Smith. "We had a few games with all of them two years ago and a few with all of them last season.
"Over the last 164 games, we've only played maybe a dozen with those three guys in the lineup. Pinto, after a full season of taking on the best centres on the road and the experience he got, he's going to be a better player. The depth, with those three guys, we're a way better hockey team. That's clear."
Article content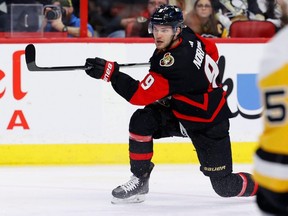 TARASENKO AND WHERE DOES EVERYONE FIT?
The signing of winger Vladimir Tarasenko to a one-year deal as an unrestricted free agent in July was a key move.
After high-scoring winger Alex DeBrincat refused to sign here and then forced a trade to the Detroit Red Wings, the Senators needed to replace his 27 goals. Tarasenko had 18 goals and 50 points in 69 games last year.
Splitting up the forward line of captain Brady Tkachuk, Claude Giroux and Stutzle may be tough for Smith, but he also needs to put Tarasenko in positions where he can succeed. Many line combinations will be used in camp as Smith tries to find the right answer.
"The way we play, is him on the left side and moving across the way to go? I'm not one of these guys that just dictates," the coach said. "I'm going to speak with the players, I'm going to watch throughout the camp.
Article content
"Ultimately, it's about winning, and we've got to find ways to win. That's what exhibition and intra-squad are about. We'll try different guys on the left and right side."
The club, however, needs more depth scoring. Forward Derrick Brassard isn't expected to return after suffering a devastating ankle injury last season. He led the bottom six forwards with 13 goals in 62 games, but his career may be over.
Dorion acquired winger Dominik Kubalik in the deal that sent DeBrincat to Detroit and the hope is Mathieu Joseph can have a bounce-back season.
"Kubalik and Joseph can play on both sides. At the end of the day, it's not about a top six and bottom six, it's about the best team," Smith said. "Is it best to have guys mix up and try to beat a team on depth? To dumb it down, to give up less, you've got to have the puck more.
Article content
"Whatever helps us get there, whether it's mixing and matching or loading them up, that's what we're going to do."
DEFENCE NEVER RESTS
Acquired from the Arizona Coyotes at the deadline, blue-liner Jakob Chychrun will spend his first full season with the Senators.
Smith and the staff have decided that he'll be paired with Thomas Chabot, but they'll take turns playing both sides in camp. That's to decide what might be the best way to utilize the duo as a top pairing while standout rookie Jake Sanderson plays with Artem Zub.
"We're going to play (Chabot and Chychrun) together right from the start of camp and they're going to start the season together. We're going to play them on both sides," said Smith.
The hope is the Senators will sign Sanderson, 21, to a long-term extension soon. The two sides have held talks and the club wants to keep its core in place.
Article content
"Sanderson and Zub played well together last year and I think they were a strong shutdown pair," Smith said. "They've got a good gap, they're both physical and then we're going to have the fight at the bottom."
The battle lines will be drawn around the final pairing on the club's blueline. Erik Brannstrom, veteran Travis Hamonic along with youngsters Jacob Bernard-Docker and Tyler Kleven will all be in the mix for the final three spots.
Hamonic was one of the club's most consistent defencemen last season and he'll be tough to beat out. Brannstrom made a step forward while Bernard-Docker and Kleven will definitely push.
"Hammer brings a lot of leadership and nastiness to the back end that makes it hard to get to our net," said Smith. "He was a really good mentor for Jake. As we know, injuries happen and you're going to need everybody, but ultimately the best six will play."
Article content
GARRIOCH: Ottawa Senators coach D.J. Smith believes young players can take next step

GARRIOCH: Michael Andlauer approved by NHL's executive committee to buy Ottawa Senators
A HEALTHY DUO IN NET
The biggest issue the Senators have faced over the years is finding the right answer in goal.
Last year, injuries forced the Senators to use a whopping seven goaltenders, but Dorion and Smith feel the organization has addressed the issue heading into this season.
The signing of goaltender Joonas Korpisalo as a UFA and the return of Anton Forsberg from two MCL sprains should help solidify the net.
Smith looks at this as a 1A and 1B situation, but the decision on who starts will rest with goalies coach Zac Bierk.
"We've got to get them feeling good because, if your goalies are in the top half of the league in save-percentage and everything that goes with it, then your team is going to be good," Smith said. "We've got to get them the right number of games in exhibition.
"We're going to try some whole games for guys instead of half-games and get them feeling comfortable. We want to have Korpisalo and Forsberg feeling great. We've got to get them the right amount of work so when the season is going, they can hit the ground running."
The days of one goalie carrying the ball are over.
"You don't see the days where a guy like Grant Fuhr or Martin Brodeur played 70 games,' said Smith. "That just doesn't happen any more, and you have to have a situation where if one guy is hurt then somebody has to be able to take the reins.
"If you've got No. 1A/No. 1B then those guys can push each other. If you have a guy who gets hot, then you can roll with a bit."
bgarrioch@postmedia.com
twitter.com/sungarrioch