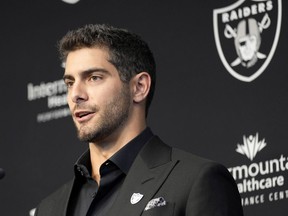 Article content
HENDERSON, Nev. — New Las Vegas Raiders quarterback Jimmy Garoppolo is not taking part in organized team activities as he continues to recover from a broken left foot.
Article content
Coach Josh McDaniels said Thursday that Garoppolo could be held out until July when training camp begins.
Article content
McDaniels said Garoppolo is one of a number of players being held out of OTAs.
"We're always going to err at this time of the year on being smart," McDaniels said. "We don't play a football game for 3 1/2 months, so try to rush (players) out there in May, it's a poor decision."
Article content
Garoppolo sustained the injury late last season, but said after signing with the Raiders in March that he wasn't concerned about being available.
"You hate being in that situation," Garoppolo said. "But once I got past that initial part, especially once we started to make a little bit of a run in the playoffs last year, I was getting ready to ramp up again and be ready. But things didn't work out, and I'm glad with how things ended up."
Aaron Rodgers strains calf during warmups, sits out first New York Jets practice

Matt Araiza works out with New York Jets after being cleared in sex assault investigation