A rugged competitor, Borowiecki was never afraid to battle and come to the aid of his teammates. But he was also the type who was willing to lend a hand away from the ice.
Article content
The Borocop won't be patrolling the blueline anymore.
Article content
Former Ottawa Senators defenceman Mark Borowiecki announced on Instagram Wednesday he's hanging up his skates and retiring from the NHL after missing most of the 2022-23 season with post-concussion syndrome.
The 33-year-old Borowiecki, an Ottawa native who was drafted No. 139 overall by the Senators in 2008, has spent the past three seasons with the Nashville Predators after signing there as an unrestricted free agent before the 2020-21 campaign.
Article content
Borowiecki only suited up for four games last season, and though the decision to retire was difficult, he felt it was the right one.
"I have something to share. After a lot of time, thought, love, and support, I have decided that my career as a professional hockey player has come to an end. I am so appreciative of everyone who has helped me along the way," Borowiecki wrote.
Article content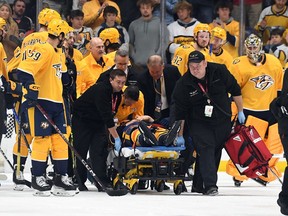 "Especially the Senators, where my career began, and the Predators where my career ended. My loving wife Tara my family, and my close friends have stood by my side through all of the ups and downs. I am so grateful and proud to have shared this life with them."
A character player, Borowiecki suited up for 375 games with the Senators over nine seasons. He spent three years with the club's AHL affiliate, which was then located in Binghamton, N.Y., before establishing himself as a full-time player in Ottawa in 2014-15.
A rugged competitor, Borowiecki was never afraid to battle and come to the aid of his teammates. But he was also the type who was willing to lend a hand away from the ice, and he came by the nickname "Borocop" quite honestly during the 2019-20 campaign.
Article content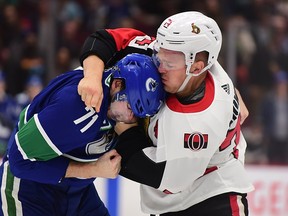 While taking some time to walk around Vancouver on an off day, Borowiecki foiled a robbery attempt in the Gastown district of the city.
After seeing a man smash a car window to take a backpack out of a parked car, Borowiecki told the person to put down the goods. After refusing to do so, the suspect then came at the rugged Borowiecki on his bicycle, and that's when Borowiecki clothes-lined the man with his arm, wrestled him to the ground and recovered the backpack.
"Bad luck for that guy," coach D.J. Smith said when asked about the incident the next day. "Boro's an outstanding guy and a guy that just does the right thing all the time off the ice and on the ice."
A father of two toddlers, Borowiecki is happy his family got the chance to see him play and live out his dream as an NHLer.
Article content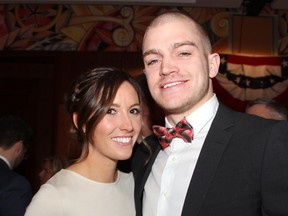 "Being able to look up into the stands and see my children watching me is something that I will never, ever forget. Having a wife who I could come home to, no matter how bad my day had been, knowing that she would support and love me is something I am eternally grateful for. Without Tara, I don't know if I would be here today," Borowiecki said.
He appreciated the help he got along the way. A graduate of the Central Canada Hockey League's Smiths Falls Bears and Clarkson University, Borowiecki wants to help young players develop.
"There are far too many people who have influenced and guided me along my career to mention in a single post. So I'm not even going to attempt it," Borowiecki said. "Just know that I appreciate each and every one of you. It's my job now to pay that all forward to the next generation of players.
Article content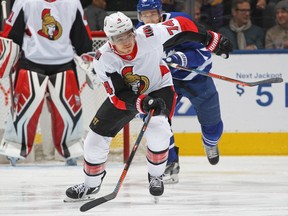 "I am very excited for a new chapter in the hockey world, and I'm looking forward to finding an opportunity to help grow the game and help other players develop."
As a player, Borowiecki always did the right thing and his message summed up the way people in the NHL will remember him.
"A friend of mine who played a long time in the NHL asked me when I was young player breaking into the league what I wanted my legacy to be," Borowiecki said. "He told me that being remembered as a good person and good teammate would always be far more important than any on-ice accomplishments.
"I really hope that I have achieved that."
BGarrioch@postmedia.com
Twitter.com/sungarrioch