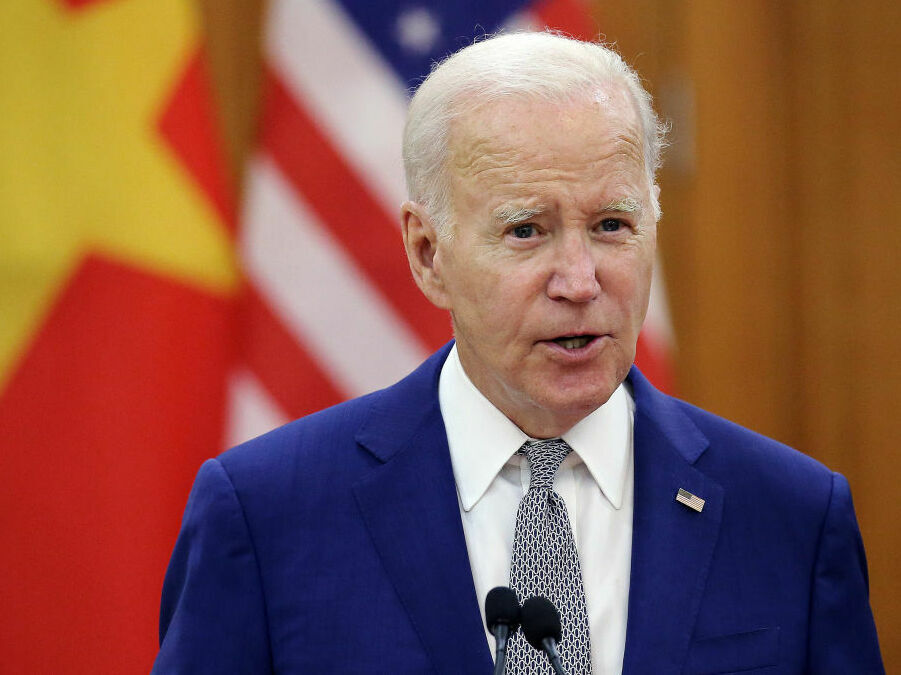 Luong Thai Linh /POOL/AFP via Getty Images
President Biden said Sunday the U.S. had "strengthened our ties with another critical Indo-Pacific partner," as his trip to Vietnam resulted in the elevation of ties between the two countries.
"As General Secretary [Nguyen Phu Trong] and I just shared earlier today, this trip has been a historic moment today," Biden said. "We can trace the 50-year arc … from conflict to normalization."
The remarks came after Vietnam elevated relations with the U.S. to the level of a comprehensive strategic partner, the highest level of international partnership. Vietnam accords that status, long coveted by Washington, to four other nations: China, India, Russia and South Korea.
The move is significant as the U.S. tries to counter China's diplomatic and military heft in the region; Washington views Vietnam as a pivotal nation in its regional strategy; Vietnam has pushed back against China's policy in the region, as Beijing claims waters that Hanoi says belongs to it.
In Hanoi Sunday, Biden met with Trong, the general secretary of the country's Communist Party, and called the two countries "critical partners at what I would argue is a very critical time." Speaking through an interpreter, Trong said the two countries' partnership had grown by "leaps and bounds." Vietnam's human-rights record remained a concern, however. Biden said he brought up the issue, but Trong emphasized the importance of "non-interference in domestic affairs."
Biden arrived in Vietnam after visiting New Delhi, India, for the Group of 20 summit where he announced plans for a new rail and shipping corridor connecting India, the Middle and Europe – but notably not China.
It was one of several ways that Biden is seeking to counter the inroads China has made around the world through its Belt and Road Initiative and other development financing. At the G20, the United States and Europe also announced new investments in a rail line that will connect Angola with the Democratic Republic of Congo and Zambia.
This story will be updated