Article content
He comes in wearing his purple sneakers and purple glasses.
Article content
We're in the eleventh-hour of a brawl-for-it-all election campaign and Naheed Nenshi, former mayor of Calgary, does what he says he's never done before.
Article content
He endorses a political party and its leader. He backs Rachel Notley and the NDP she leads.
Nenshi says he is not permanently in any camp and he's had his fights with Notley in the past but he tells those crammed into the backyard of a north Calgary home that he has "never seen a politician like Danielle Smith."
"I have never seen the stakes so high."
That is just the beginning.
Nenshi believes Smith, the UCP leader, is "an existential threat" to Alberta's future.
"I have never seen someone pushing the boundaries of what is appropriate like Danielle Smith."
He says Albertans "deserve a premier who says what she means and means what she says."
Article content
He believes "the United Conservative Party is not the Progressive Conservative Party. It has been taken over by a group of people who want to take back Alberta. Take back Alberta from whom exactly?" Nenshi asks the assembled.
"From us!" he bellows.
A few minutes later, Nenshi tells the newshounds Smith is an "enormous risk" and "cannot be trusted."
"I hate saying that. I've known her for 30 years. We've been friends."
The former mayor points to something Smith said days ago to this scribbler, about having people judge her on what she's done, not on what she's said.
He talks about Smith saying you can't look at everything she's said over 27 years in the public eye because none of it has any impact on who she is today.
"Somebody told her that was a good line. Somebody told her if you say that, then we'll erase the past," says Nenshi.
Article content
"But, to me, it's even worse."
Here the former mayor really slams Smith.
"It says: I've got no core. I've got no ethics. I'll blow with the wind and do what people are telling me to do."
He says Smith lied repeatedly during the leaders debate.
He feels if Smith wins, with the group of UCP members of the legislature dominated by the Take Back Alberta crew who claimed victory running former premier Jason Kenney out of Dodge, then "the  voices in her ears and in her head will not be the voices of moderate Albertans."
The man feels Notley has the best interests of everybody at heart and Smith doesn't.
It becomes clear this is not your ordinary endorsement.
I've heard the former mayor countless times over many years. I know he still has fuel in his tank.
Article content
In recent days, Smith told this ink-stained wretch her political philosophy deep-down was that of a "caring conservative."
"That's new," says Nenshi.
"What happened to: I'm an absolutist libertarian."
Smith often says she is a libertarian conservative.
Nenshi says he loves caring conservatives but he doesn't think Smith is one.
"What has she done to show she is, in fact, caring?"
In northwest Calgary earlier on Friday, Smith speaks of what she sees as NDP "scare-mongering" during this election campaign.
She has her own strong words.
"They focused on character assassination," says the UCP leader.
"They didn't run on their record and they didn't really run on what they were going to do differently. I think people see through that."
Article content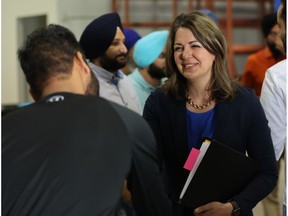 Smith says her opponents have lost track of the ballot question, on what Albertans want to see in a leader and a government.
She has been hammered over her past statements.
She has been found guilty of attempting to influence the independence of the legal system in going to bat for Art Pawlowski, a guy facing charges connected to the Coutts border blockade.
She has been cast as an extremist and as someone who is off-the wall.
But still the nose-counters have Smith's UCP as the favourites and still the smart money is putting dough down on the UCP for the win Monday.
At a Calgary-area rally of the UCP faithful Thursday night, many of the party's true believers have every confidence it's all over but the counting.
They only debate with each other over how big the win will be.
Yes, they're not breaking out the victory bubbly just yet but there are very few in their ranks who think the contents will go to waste.
rbell@postmedia.com