Smith refers to Wilkinson as 'our federal friend' but thought his speech sounded like it was for the G7 which she figures is 'a very privileged group of nations'
Article content
Danielle Smith, Alberta's premier, wanted to be frank and called what happened "a bit of a slap in the face."
Article content
The way the premier talks about it, it was well and truly a slap in the face, politically speaking.
Article content
Let's begin at the beginning.
With the world's oilpatch bigwigs gathered in Calgary, Trudeau's point man on the oilpatch Jonathan Wilkinson, speaks to them opening night.
Wilkinson talks of forecasts saying worldwide demand for oil will begin to decline, with peak demand for oil and gas this decade and far less demand by 2050.
For Trudeau's man, the transition away from the combustion of fossil fuels is well underway.
Now, Smith's people often talk up Wilkinson as the Good Guy, at least compared to Trudeau's green guru Steven Guilbeault.
The Green Jesus of Montreal is definitely seen as the Bad Guy, a dude the premier believes should "zip it" and stop taking shots against Alberta, stop showing "utter contempt" and "stick a sock in it."
Article content
As the premier tells it, she didn't want a fight with the feds then and there but she wasn't going to allow them to take swipes at the oilpatch.
Maybe this was like how a lot of people felt when Prime Minister Justin Trudeau told an Ontario audience he wanted to phase out the oilsands and then, many days later, claimed he misspoke when questioned in Alberta by a certain Calgary scribbler.
Whatever. This was dropping the gloves in the very first shift of a hockey game.
Smith, provincial politicians blast federal minister's remarks at WPC

World Petroleum Congress an important opportunity for Calgary: Gondek

Calgary set to host World Petroleum Congress
On that night in front of the global oilpatch players, Smith reminds Wilkinson how Alberta owns its oil and natural gas.
Article content
That is to say, not Ottawa.
She wants lower emissions but her goal is not to phase out oil and natural gas.
Smith refers to Wilkinson as "our federal friend" but thought his speech sounded like it was for the G7 which she figures is "a very privileged group of nations."
On the day after the night before. Smith said Wilkinson's speech was tone-deaf, offside and went over at the World Petroleum Congress like a lead balloon.
In fact, she says a number of folks walked up to her after he'd spoken to see if she had steam coming out of her ears.
The oil-on-the-way-out projection from the International Energy Agency, brought up by Wilkinson, was ludicrous to Smith and she considers the IEA more of a political activist outfit.
What really got under Smith's skin?
Article content
"Talking about the industry winding down, being on its last legs, only have 25 million barrels a day of production by 2050."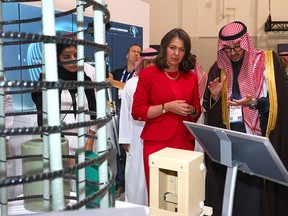 A newshound well-versed in the oil and gas scene asks if Smith thinks the global oilpatch get-together was the right place to get into it with the feds.
Smith turns the question around, saying it was wrong for Wilkinson to make that speech in that place at that time.
As she has said before, Smith tells us Alberta is negotiating with the feds but isn't caving to the gang from the capital city.
"We're going to stand firm," she says, adding she feels Alberta is "very much in sync" with others where oil is big.
The premier says Alberta has demonstrated it is moving in the right direction.
The province won't go for the Trudeau idea of a cap on the oilsands because she says Alberta already has an emissions cap on the oilsands and actually doesn't need an emissions cap.
Article content
Once again, she says Alberta cannot and will not get to a net-zero emissions electricity grid by 2035 as Ottawa desires.
"We've got to respond to the world as it is," says Smith.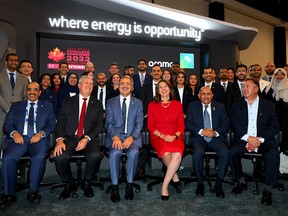 She warns if the feds push through policies without the Alberta government on board she will see it as negotiating in bad faith.
Smith asks Ottawa to be "measured" in their comments and hopes they've heard her "loud and clear."
Any bets?
"I'm hoping we can bring the temperature down, I don't want it to escalate any further."
Not wanting to escalate any further is not the same thing as not escalating any further if push comes to shove.
There are always options right there on the table, including the sovereignty act where Alberta would go its way on the energy file and it would be up to the feds to fight it out against the province in court.
"We intend to vigorously defend our constitutional rights," says the premier, repeating the songsheet she's been singing from the days before she was leader of the UCP.
Where is Wilkinson? He says perhaps Smith misinterpreted some of his comments.
rbell@postmedia.com