AMD said Thursday that it will replace two of its mobile Ryzen 7040U processors with a version that uses "Zen 4c" technology, an efficient CPU core that appears in AMD's server processors and some handheld gaming chips.
AMD will swap out the Ryzen 5 7540U for the Ryzen 5 7545U, the company said. It will also replace the Ryzen 3 7440U with a version that includes the Zen 4c technology, but maintains the same product name. Neither of the "original" Ryzen cores have shipped in volume. The two new chips will have the same specifications: the same core count and clock speeds.
"From a performance standpoint, no human will be able to tell the difference," Don Woligroski, a senior processor technical marketing manager for AMD.
The difference, mainly, is for AMD: the core will be 35 percent smaller, saving manufacturing costs. The "replacement" Ryzens will still have the same TDP.
AMD
Including the Zen 4c technology can be seen as AMD's answer to the "performance" and "efficiency" cores that appear in competing architectures from Arm and Intel. AMD has said previously that it has chosen to focus on performance. (Qualcomm's latest Snapdragon X Elite chip is an Arm processor, which has typically used performance and efficiency cores, but decided on an all P-core architecture for its latest chip.) AMD said that combining the Zen 4 and Zen 4c cores provided the ideal combination of performance and efficiency.
Essentially, AMD is arguing that the Zen 4c cores are tuned for lowering power while maximizing efficiency across multithreaded applications. Zen 4, by contrast, will be the faster core for single-threaded, bursty applications. AMD also says that since the Zen 4 and Zen 4c cores are built on the same architecture, it doesn't need an Intel-style thread director to route tasks to the appropriate cores, and that the operating system's own scheduler will take care of that task.
AMD's Zen 4c cores have been used in its Epyc processors. On the consumer side, they appear in the Z1 and Z1 Extreme, used in the Asus ROG Ally gaming handheld.
AMD executives said that the 4c cores grants AMD designers additional flexibility.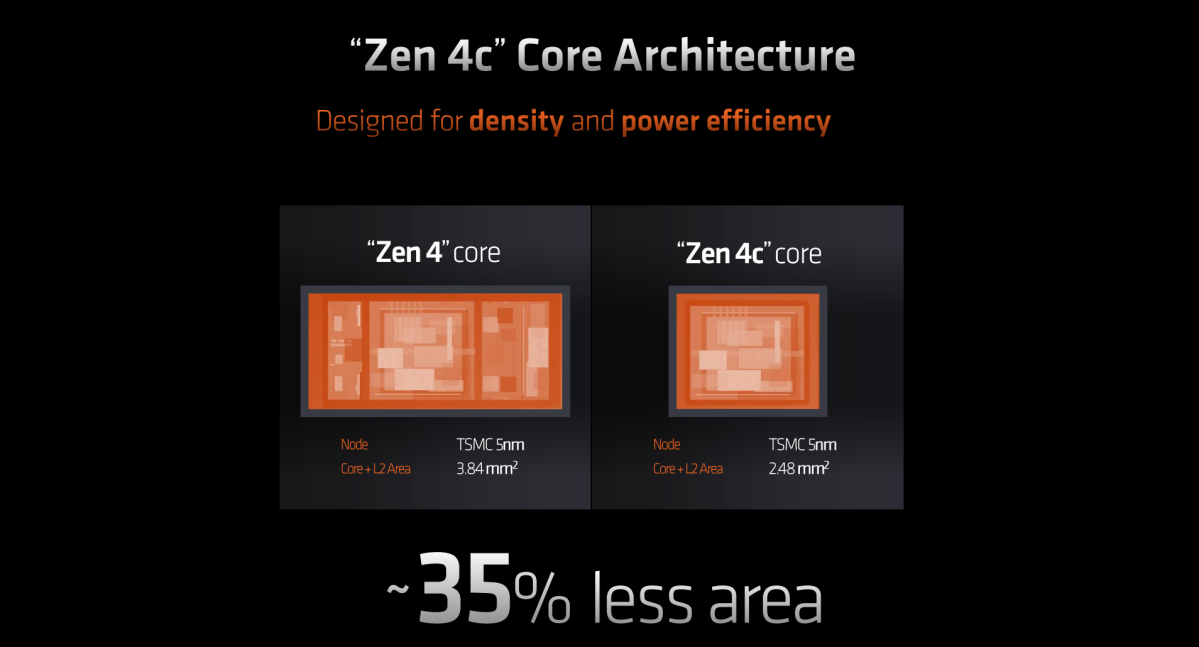 AMD
"We haven't done this yet, but it does give us the option to increase core counts in the future in the premium segment," Woligroski said. "So in the future we could squeeze more cores into a processor and get higher multithreaded performance."
AMD could also scale down further into the entry level, offering chips for slower, cheaper notebooks. "So having these smaller cores with the same [instructions per clock] IPC really opens the door to offer different things to consumers, to make some new products that we wouldn't have made otherwise, because it might not have made sense," Woligroski added.


Source Link